Shouts of "ISIS" were heard as a takeaway owner was attacked by a gang of youths outside his shop in Methil, it has been claimed.
Mohammed Khalid, 53, was treated for a serious eye injury after being targeted by around a dozen people outside the Caspian Fast Food outlet in Methil.
The shocking incident happened early on Sunday morning, a day after the attacks in Paris which claimed 129 lives.
Mr Khalid and his wife were closing up their outlet on Wellesley Road at around 1am when they were approached by a group of around 15 people.
Despite earlier reports it is understood that Paris was not specifically mentioned during the attack but shouts of "ISIS" were heard.
"It was 1am and it was time to close the shop," Mr Khalid's daughter Shama told The Courier. "There were a few customers in the shop and one of dad's staff members went to close the shutters and was stopped at the door.
"It went from there."
With her father having gone to help his member of staff, Ms Khalid said he too was confronted before being set upon by several people.
"They kept coming from across the road," she added. "They just wanted to take a punch."
Asked if she believed Friday's events were used as an excuse to attack her father, Ms Khalid responded: "I'd like to think not."Mr Khalid required hospital treatment, while his wife is believed to have suffered minor injuries as she tried to help him.Their daughter Shama Khalid posted CCTV footage of the assault on Facebook in a bid to highlight the abuse.
Two men have been arrested and charged in connection with the incident.
The Khalid family have owned the Caspian takeaway for 25 years, with no incidents on such a scale as this having taken place before.
Ms Khalid said that while there had been occasional problems with the odd customer, never had such a seriousincident occurred on the premises.
A spokesman for Police Scotland confirmed: "We are currently investigating a disturbance at a takeaway in Methil, which took place in the early hours of November 15.
"The incident happened at around 1am at a premises on Wellesley Road. As a result of our inquiry two men aged 35 and 17, have been charged and a report will be sent to the procurator fiscal.
"Our investigation into this matter is ongoing as we seek to trace a number of youths who were at the scene.
"Anyone who has information that can assist with our inquiry is asked to contact police immediately on 101 or alternatively the charity Crimestoppers on 0800 555111."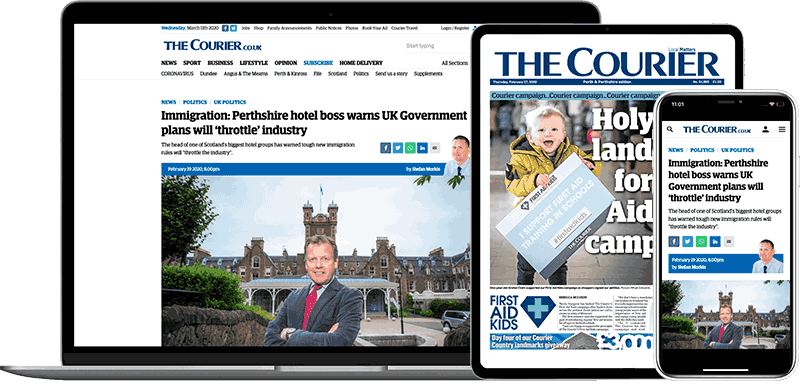 Help support quality local journalism … become a digital subscriber to The Courier
For as little as £5.99 a month you can access all of our content, including Premium articles.
Subscribe