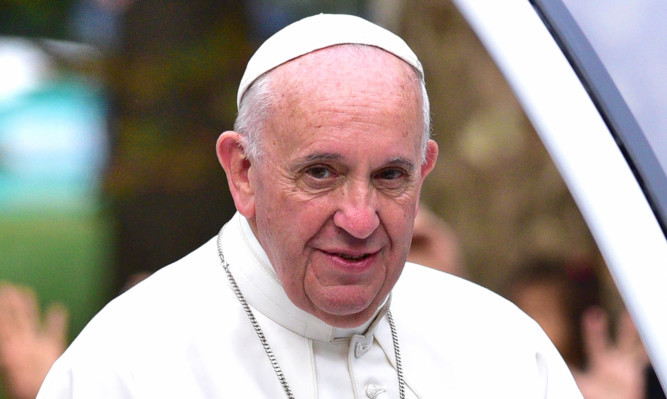 Pope Francis is considering making a surprise trip to Courier Country in September.
He is preparing to show his support with other religious leaders against extremism.
The pontiff, who has not visited the UK since he ascended three years ago, is understood to have pencilled in a flying visit to St Andrews to sign a charter calling for all faiths to unite against radicalisation.
The pope has publicly condemned the brainwashing of young people by terrorist networks "to sow discord and fear" and has told aides that he regards the declaration, drawn up by an academic at St Andrews University, as "very positive".
It has also attracted the support of Desmond Tutu and the Dalai Lama.
On Friday, the Vatican embassy in London declined to comment. However, a well-placed source said that a papal visit to Scotland is "under consideration".
An invitation to sign the charter has been extended by Mario Aguilar, professor of religion and politics at St Andrews. Professor Aguilar, who has met Pope Francis on several occasions and penned a biography of the pontiff in 2014, received a letter from Rome, via the Vatican embassy in London, indicating the invitation was being considered.
"My understanding is that Pope Francis is interested and has put (the event) on his agenda of activities and that further arrangements will be discussed," said Prof Aguilar.
"I have had an indication that his visit is being considered."
The pope's presence in Scotland would be a huge boost for the country's 850,000 Roman Catholics at a time when the church's influence in society has waned.
It would be unlikely, however, to attract the pomp and ceremony that surrounded Pope Benedict's state visit to Britain in 2010, which at the time was the first by a pontiff in 30 years.
Pope Francis is more likely to fly to Scotland on the morning of the event, possibly landing at Leuchars, and return to Rome the same day.
"If he agrees to come, it will be in a private capacity in response to an academic invitation," added Prof Aguilar."It would not be a pastoral visit."
The signing of the declaration would be an opportunity for Pope Francis to press his message of intolerance of the radicalisation of young people.
In November, during a three-nation Africa tour just weeks after jihadists killed 130 people in a string of gun and suicide attacks in Paris, the Pope described attacks by terror groups in the name of religion as "barbarous".
St Andrews University has designated 2016 as a "year of interfaith dialogue", with the aim of exploring common ground between faiths and the notion of shared humanity through lectures and events.
These culminate in a conference on September 23 where a host of religious, diplomatic and community leaders will sign a 10-point declaration.
It will be disseminated to schools in 150 countries.
Meanwhile, Pope Francis is to honour a college which has been at the centre of training Scottish priests for 400 years.
He has been officially invited to visit the Pontifical Scots College in Rome this year to help mark the 400th anniversary of its founding as a seminary.
The Pontifical Scots College was founded by Pope Clement VIII to provide an education for young Scottish Catholic men who, due to the laws against Catholics, could not receive a Catholic education at home.