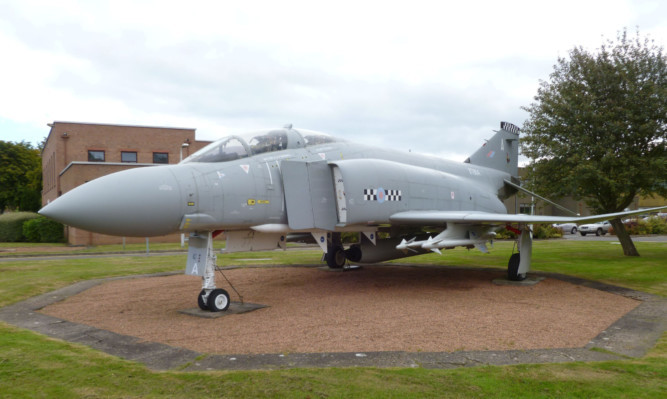 It was once an aircraft that played a key role on the front lines during the Cold War, keeping Soviet incursions into British air space at bay.
Now, the shell of a former fast jet which became a gate guard and has been languishing in a dim hangar at the former RAF Leuchars base, is to find a new home in Northern Ireland.
A team of volunteers from the Ulster Aviation Society will arrive at the Leuchars Station army base this weekend and prepare the Phantom FG1 for a long road trip to its new home near Lisburn.
It's the final visit in a project begun last January after the Ulster Aviation Society bought the Phantom from the RAF.
The loading and transport of the fighter, 63 feet long, will be a major job and a sight to behold from around 3pm on Sunday as a low loader vehicle carries the massive fuselage through villages and along busy motorways to its ferry embarking point at Cairnryan.
The trip through Larne to Lisburn will be the last stage on its journey.
The huge wing section, about four tonnes in weight, will follow at a later date. Once mated again with its fuselage, the Phantom will be one of the largest and most impressive aircraft in the UAS collection, located in a former RAF hangar at Maze/Long Kesh, next to the former Maze Prison.
UAS chairman Ray Burrows told The Courier: "We've had seven working parties rotating through Scotland since the dismantling began over the winter.
"It's been a difficult job because none of the team had faced that kind of challenge before, and the UAS was unable to find anyone in the UK who was willing and trained to do the work.
"So that made everything 10 times harder," he said.
"There were hundreds of bolts of different kinds and lynch-pins to remove."
Mr Burrows said the aircraft had been outside for 25 years, with the weather fusing or corroding many of the connectors.
"It was like peeling an onion," he added.
"We'd get one panel off and find another bunch of bolts under it, and another bunch under the next panel. It was lot of hard work before we finally arrived at the 10 bolts which held the one-piece wing to the fuselage."
He admitted, the aircraft was in "fabulous shape99.9% of it in great condition."
Work teams at the hangar have already moved a ton of partsmainly inert missiles and their under-wing racksinto the UAS hangar.