 A disabled pensioner has vowed to trail the streets with a petition in a bid to save a service which proved vital to her dying husband.
Nan Bond, 68, said her beloved husband Rab was able to fulfil his wish to die with dignity at home thanks to Marie Curie's "angels in uniform".
The Pittenweem woman was horrified when it emerged last week that the £1 million pilot project run jointly by NHS Fife and Marie Curie Cancer Care to help terminally ill patients spend their last days out of hospital would not continue beyond the end of this month.
The health board had refused to stump up the £300,000 needed to allow the continuation of the Hospice At Home service, which doubled the number of terminally ill patients able to die in their own homes during the two-year pilot.
Mrs Bond said she could not have managed without the service in the weeks before Rab's death from a brain tumour on December 31, aged 67.
"My lovely late husband was one of these people who were tended in the last few weeks of his life by these wonderful caring nurses… or as Rab called them, his angels in uniform," she said.
"Rab was always terrified at the thought of having to spend any time in hospital so did not want to be in there at the end.
"He came home to die and what these nurses did for Rab and myself was just wonderful. He felt so safe in their hands."
While NHS Fife and Marie Curie are in talks about designing a new service for the terminally ill, it has been confirmed the service will not continue in its current form.
Mrs Bond, however, is determined the fight for the original project should continue.
"I know Rab too would want to fight to save his angels," she said. "These people went way beyond their call of duty and something has to be done to help the team continue."
She added: "I cannot understand why, after the huge success of this project, our own NHS Fife is allowing this to happen.
"I will get my petition out there even if I have to trail the streets myself, despite being registered disabled."Hopes for futureA new service to help terminally ill patients in Fife could rise from the ashes of the axed Hospice At Home Service.
NHS Fife has confirmed it is in talks with Marie Curie Cancer Care with hopes of designing new services.
MSP Claire Baker, who last week urged the health service to reconsider its decision to stop the successful service, said she was encouraged by the latest announcement.
"The evaluation report into the Marie Curie Hospice At Home service shows just how valuable the pilot project was to both patients and their families but also to NHS Fife.
"The project was seemingly going from strength to strength so it is disappointing that NHS Fife has taken the abrupt decision to no longer continue it in its current form."
Mrs Baker had urged the Scottish Government to intervene in the issue amid revelations that the number of patients supported to receive end of life care at home rocketed by 96% during the pilot.
An independent evaluation also showed that 82% of recipients said the care they were given had reduced their feelings of anxiety, while the service saved NHS Fife £182,283 by getting people out of hospital.Councillor angered by lack of consultationAn outraged health board member has claimed he knew nothing of the controversial decision not to continue with the service.
Councillor Andrew Rodger, chairman of Fife's Health and Social Care Partnership, said he was very angry the issue had not come to his committee for consideration.
"The first I knew of this was when I was approached by Marie Curie's head of policy and public affairs in Scotland and I quickly set up a meeting with him," he said.
"That's when I found out this was going to be closed down.
"It should have come before the partnership for discussion but it didn't. I'm very, very angry."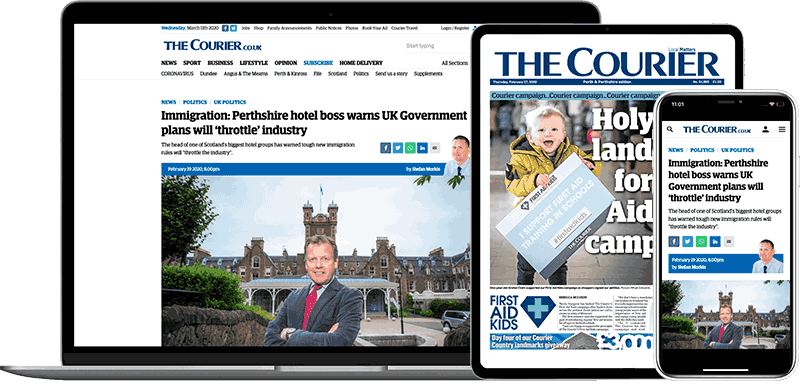 Help support quality local journalism … become a digital subscriber to The Courier
For as little as £5.99 a month you can access all of our content, including Premium articles.
Subscribe