The brother of The Voice star Stevie McCrorie has described how the singer took his first steps to burgeoning fame.
Ahead of the Kirkcaldy firefighter's appearance in the semi-final of the show tonight, older brother Paul claims he set him on the path to stardom.
Stevie is favourite to win the series but if Paul had not recognised his talent and bought him his first guitar at the age of 14, the 30-year-old father of one may never have appeared on screen.
Paul, 33, who will be back in London today cheering on his wee brother at the live semi-finals, told The Courier how he "discovered" his brother's talent.
Courier's @thecourieruk poster has a new fan! @steviemccrorie @paul_mccrorie @MichaelMcCrorie @sandee1307 @nadia72011 pic.twitter.com/rrblGdMr5b

— Michael Alexander (@C_MAlexander) March 27, 2015
At the family home in Alva, Clackmannanshire, he said: "I always remember the day when I was back home on leave from the army and I took Stevie for a wee drive in my new car.
"I had Stereophonics on. He was sitting in the back seat. I could just hear him singing. I turned the music down so I could just hear his voice.
"He didn't notice. I could hear him belting out the song a bit. I said 'you're a really good singer wee man' and he got all embarrassed.
"So when he asked me to chip in with (our brother) Michael to buy him his first guitar, I was more than happy to help him.
"But unfortunately for Michael he was a bit short on the cash so I ended up taking the pleasure of buying him his first guitar and I still wind Michael up and say it was me who bought him his first guitar."
Stevie looked up to his two big brothers and struggled without them when they both went into the army.
Paul, who has been to see his brother perform at every round of The Voice so far, added: "Personally I think he's already a winner for me."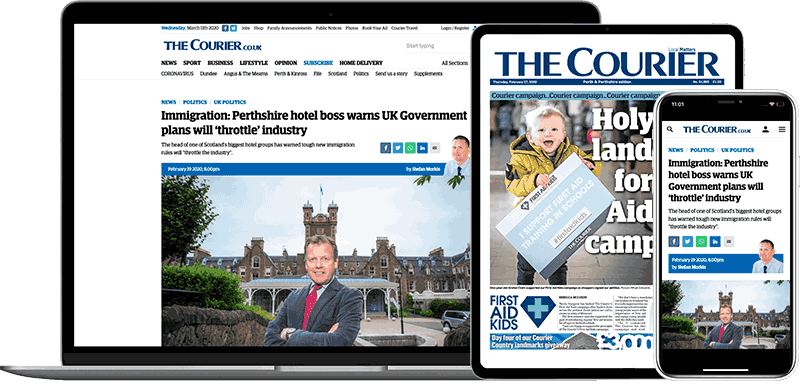 Help support quality local journalism … become a digital subscriber to The Courier
For as little as £5.99 a month you can access all of our content, including Premium articles.
Subscribe