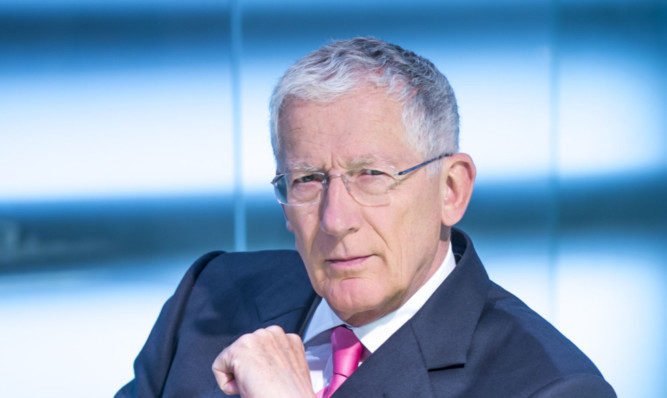 Waiting for a phone call from Nick Hewer proves to be a nerve-jangling experience for an office colleague at least.
"He's scary," she tells me when she hears the countdown is on for him to ring. This is Lord Sugar's former right hand man, after all.
The trusted eyes and ears who, with a sceptical squint and a memorable turn of phrase, had the power to influence Sugar on whether or not an entrepreneurial upstart would make it to the following week's episode of the Apprentice.
When Hewer does ring my number he's the perfect gentleman and displays the same sharp wit as seen on TV.
Less than a year after announcing he was leaving the Apprentice because his "stamina is not up to those long weeks of filming", Hewer will host The Courier Business Awards in association with chartered accountants Henderson Loggie at the Fairmont St Andrews on November 27.
It will be Claude Littner who lines up alongside Lord Sugar when the Apprentice returns to our screens. While glad to be out of it, Hewer, who worked on the programme for a decade, admits he will still be watching as it's a "great show".
"I'd given 10 years and seen the Apprentice be a great success in terms of what it does to teach young people about business but it had got to the stage where I'd seen it all before," he tells The Courier, speaking from a taxi on his way to Channel 4's studios in Salford where he has hosted Countdown since 2012.
"When you are 71 and you are running down the street eating a sandwich trying to keep up with these young people you start to realise it's time for a change.
"When the time came round to start filming for this Apprentice series I was thrilled not to be doing it. My timing was good."
Born in Swindon, Hewer was educated at an exclusive Jesuit boarding school in County Kildare, Ireland.
He secured a place to study law at Trinity College, Dublin but his parents could not afford the fees.
He moved to London in the 1960s aged 20 to join a PR consultancy as a trainee. Within six years he had joined the board and eventually bought out the owner.
His PR company was hired by Alan Sugar's Amstrad to represent them in 1983 and a working relationship developed from there.
By the time the BBC won the rights to produce a British version of US TV hit The Apprentice in 2004, Sugar was well-placed and eager to take the Donald Trump role.
"I was instrumental in getting him (Sugar) to be host of the show but I got bullied into becoming his adviser," says Hewer.
"We were in Spain, staying in his house. He beat me up."
Hewer is aware some critics have said the show is not like real business but defends the reality of the show in so far as all of the tasks have been vetted by Lord Sugar.
"Are the participants the best business brains in Britain? They are certainly not mugs," he says, adding the entertainment factor is essential to make the show watchable.
"It gives an insight into real business practices whilst giving the viewer that chance to hurl abuse at the TV and scream 'I could do better than that'."
Hewer says Sugar is "much more human" than he's portrayed on TV.
He adds: "That's not to say he's a pussycat. He's not. He's not into small talk. But he's like a chess player, looking 15 steps ahead. I'm not sure what drives him but he's very focused."
Thinking back to his own beginnings in business, Hewer says he was never particularly ambitious.
He remembers always wanting to "get on" but says money was "not that important for me".
It was more about being able to provide for his family.
Hewer spends a lot of time visiting schools and colleges to talk about business and he has simple advice for anyone thinking about setting up.
He says: "Don't be frightened. Write down what your main points are.
"Make it your business to strike them off one by one. If you want to start an airline, that's going to be difficult.
"But even if you are made redundant, get together with other redundant people and use that experience. Just because there is less money in the economy doesn't mean it's more difficult to start."