 Around 140 refugees fleeing the war in Syria are expected to come to Fife over the next four years, it has emerged.
And following Prime Minister David Cameron's announcement that the UK plans to re-settle 20,000 refugees in the country by 2020, The Courier understands that preparations are already being made in Fife to accommodate the region's share.
Fife Council has responded to a CoSLA request outlining what commitment it can make, and Judy Hamilton, executive spokesperson for housing and building services, stressed that Syrian refugees will be welcomed with open arms.
"Fife has a long and proud history of welcoming and supporting refugees," she said.
"Over the last 30 years we have opened our doors to people from countries including Afghanistan, Uganda and Kosovo.
"It's too early to talk about a definitive number of people that could come to the kingdom. However, bearing in mind that nationally there has been a commitment to help 20,000 people, we could expect to welcome around 140 people to Fife over the next four years.
"We won't know for some time whether these will be families, single people, or maybe children who have lost their parents.
"Whoever they are, they will be made most welcome."
With more than 11,500 people on Fife's housing register waiting for a home, Mrs Hamilton acknowledged the need for help from the private and social rented sectors in offering whatever accommodation they can.
"We are now involved in discussions with partners across the housing and health and social care and voluntary sectors to talk through what impact we could expect on our services," she added.
"It's no secret that our own budgets are stretched and that financial challenges are impacting on the services we provide.
"It's important to state that we don't anticipate any impact on our budget from welcoming refugees to Fife as government grants will be available to us."
Fife Council leader David Ross has said that the region is "ready and willing to play its part" in welcoming refugees fleeing the war in Syria.
"We are working closely with local community groups to put the necessary support in place and to make sure that everyone is pulling in the same direction," he added.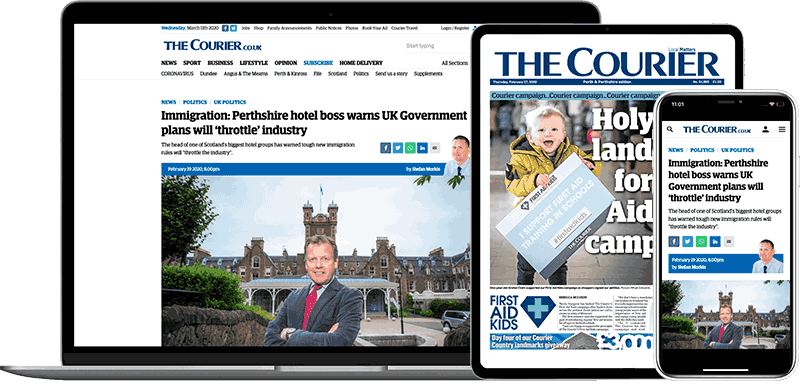 Help support quality local journalism … become a digital subscriber to The Courier
For as little as £5.99 a month you can access all of our content, including Premium articles.
Subscribe