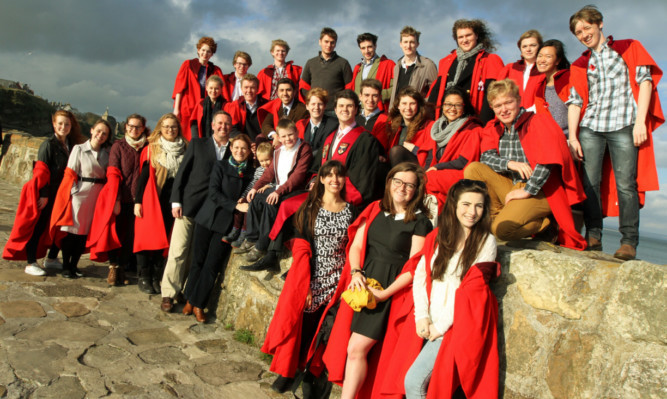 When it comes to political campaigning Catherine Stihler likes a good scrap.
But a year on from being controversially elected unopposed as St Andrews University rector, the Dunfermline-based Labour Member of the European Parliament is warning that the prestigious position of rector at Scotland's ancient universities is under threat.
The universities of Aberdeen, Dundee, Edinburgh, Glasgow and St Andrews all have elected rectors who represent the student body.
Rectors, who are often celebrities or notable public figures, also chair meetings of the powerful courts which run universities.
However, Ms Stihler, along with the St Andrews student body, fears the historic post will be swept away under new Scottish Government legislation to reform university governance.
Under the plans all chairs of court will be elected in future, but the role of students in selecting candidates and voting could be drastically diminished.
A petition to the Scottish Parliament from St Andrews students opposing the move has attracted thousands of signatures
The influential General Council of St Andrews University, an independent body that represents all the institution's graduates, has appealed to alumni to oppose the new governance legislation.
Meanwhile, Education Secretary Angela Constance has insisted the role of rector is safe.
Now, in an exclusive interview to mark the first anniversary of her being announced as rector, Ms Stihler is warning that should the rector be side lined on the university court, it will impact their capacity to effect change in other areas of the university.
"Under current proposals, candidates for the chair would have to put their CV in, go in front of a panel and then be approved to stand for election,"she said.
"That fundamentally alters the power of the student body to be able to choose the individual they want to be nominated to go forward for election.
"As the bill is drafted, the power of the rector to chair university courts would no longer happen. It's an ancient Scottish tradition. It's something that is very unique. And I think it would be very sad to lose that."
A committed internationalist, the 42-year-old mother-of-two can trace her Labour politics back to her family's "humble upbringing" in Lanarkshire.
The daughter of a geography teacher father and primary school teacher mother, she has vivid memories of the EIS-backed teacher strikes in the 1980s, and also cites the influence of the Church of Scotland for her commitment to helping others.
Her mum's family had connections with the East Neuk, and during childhood holidays, they would visit St Andrews.
That influenced her choice to apply to St Andrews University as a student in the early 1990s.
"I'm a bit of a black sheep the rest of my family went to Glasgow!"she laughs.
Studying geography and international relations, she got involved in student politics and was elected as St Andrews University Students Association president in 1994/95.
She had many "happy days" in the students association and in 1996, whilst embarking upon her MLitt at St Andrews, met her now husband David Stihler, who was studying at St Andrews from California.
Standing unsuccessfully for Labour in Angus for the 1997 general election, her political big break came in 1999 when she was elected to the European Parliament.
Then on September 30 last year she received an unexpected email from a student inviting her to stand as university rector.
When the nominations closed at the end of October, she was the sole candidate. While there was no backlash against her personally, one student critic compared the unopposed election as like something from "Putin's Russia".
She has since worked with students whereby in future, such a scenario might lead to the re-opening of nominations.
But despite the controversy, she has pledged to represent the student population in every way she can in her three year term.
She added: "To become rector was an incredible experience. I feel very honoured and very privileged. Whether I was elected unopposed I try to do my best and work as hard as I can. I've tried to set up an Inspirer speaker series. I've tried to be present, to use social media.
"And I'm currently trying to ensure the rector is still the person who chairs the university court."
Catherine says her time as a student at St Andrews was inspirational and helped instil confidence in her abilities.
She said it was also interesting to see that the student population had more of a voice now than it did 20 years ago. "Twenty years ago it was certainly not listened to,"she laughs. "I had to work with Donald Findlay QC, the then rector. That was an experience! To be fair to Donald, he always valued the students."
With on-going debate over the future of the EU and Britain's membership of it, she fears many have lost sight of why the EU was set-up – to make war between European nations as unthinkable.
Whilst she thinks peace is the EU's greatest achievement, she stands by the view that more can be done by nations working together whether it be the thorny issue of climate change or the Syrian refugee crisis.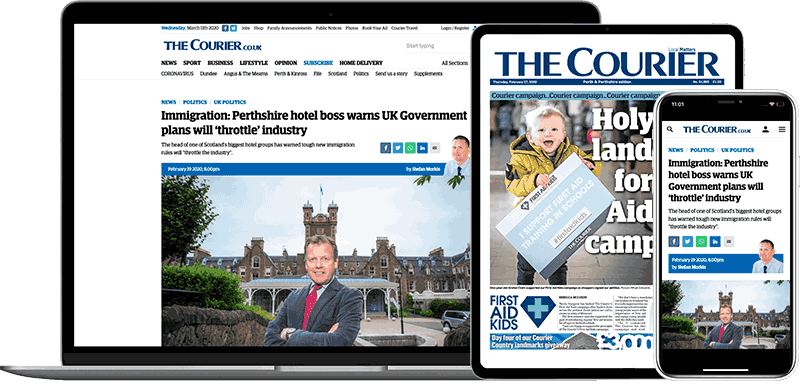 Help support quality local journalism … become a digital subscriber to The Courier
For as little as £5.99 a month you can access all of our content, including Premium articles.
Subscribe