 Loony dookers across Fife will be welcoming the New Year with an icy splash.
The tradition of dipping into chilly open water on January 1 is being honoured across the region.
A couple of hardy souls plan to take part in not one but three events.
Ballingry man Frankie Hodge is taking to the water at Kinghorn, Lochore Meadows and Limekilns.
He will be joined by friend Veronica Laing.
Frankie, who works at Recycle Fife, said: "A friend who did two last year challenged me to do three with her this year. I couldn't really say no."
The 47-year-old is dooking in support of Benarty Fundraisers.
He added: "The great thing is all the money raised by Benarty Fundraisers goes back into Benarty."
Benarty Fundraisers are behind the Lochore Meadows Splash for Cash, which takes place at noon.
It is the third year the event has been run. The first year saw around 30 people take part and last year around 60 turned up.
Organiser James Fotheringham is hoping for more than 100 this year.
"Last year we had terrible weather but a child of six years and a lady in a wheelchair took part, so there's no excuse," he said.
"Remember all money raised in this community stays in this community. Come have a laugh with us."
Splashers and spectators are also being invited to support the area's foodbank by donating non-perishable items.
The Kinghorn loony dook starts from the lifeboat station at 11am.
After celebrating its golden anniversary this year, the station is preparing for a bracing start to 2016.
Helmsman Neil Chalmers said: "It's a really good excuse for a fun event on the beach. We'll be glad to see everyone down there."
He said although fundraising was not the main aim of the event, any donations would be a bonus for the local RNLI station.
And at 3pm, the Limekilns Breakfast Dip will be raising money for Fife Young Carers.
The fun kicks off from 2pm, with bacon rolls, tea and coffee served up by the local scout group.
Last year the event attracted around 1,000 spectators and 200 dippers.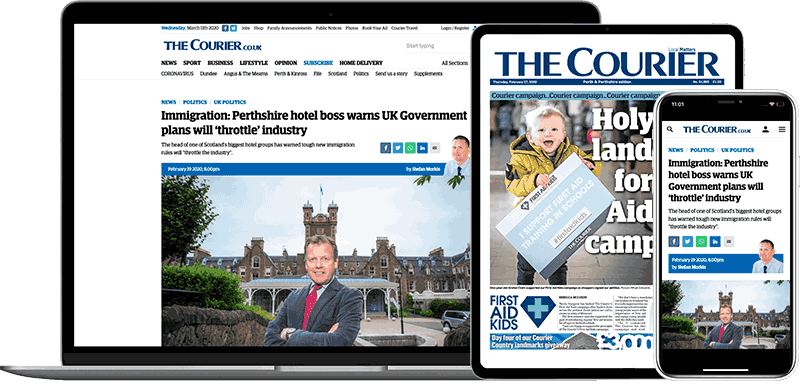 Help support quality local journalism … become a digital subscriber to The Courier
For as little as £5.99 a month you can access all of our content, including Premium articles.
Subscribe