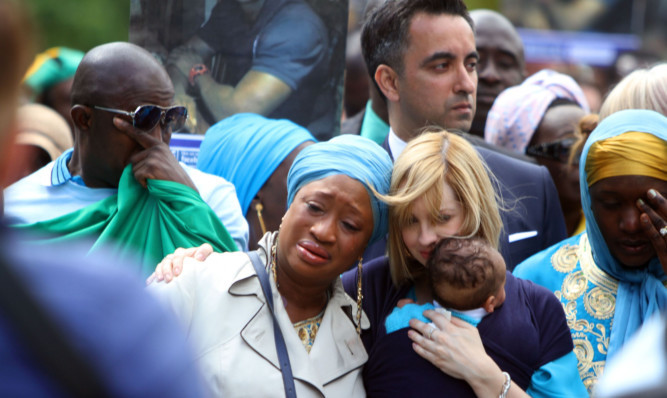 Scotland's justice secretary will not intervene over concerns the independent organisation investigating the death in custody of Kirkcaldy man Sheku Bayoh does not have sufficient powers to quiz police officers.
Michael Matheson told MSPs police are entitled to refuse to give a statement on such deaths if there is a chance they will be involved in a criminal complaint.
The Police Investigations and Review Commissioner (PIRC) made several failed attempts to secure statements over the death in custody of the 31-year-old in Kirkcaldy on May 3.
Mid Scotland and Fife Labour MSP Claire Baker argued a change in powers is impeding PIRC investigations, as she acknowledged officers' rights.
"My understanding is that in a serious case such as a death in custody, the accompanying regulation five of PIRC Regulations 2013, which provides PIRC with the power to require information from police officers, does not apply and no witness can be compelled to give a statement," she said.
"In addition, it has been reported that in March a Police Scotland memo was issued to police officers following an agreement with the Crown advising them that they do not have to provide operational statements relating to incidents that they have been involved with if there is a possibility of them being involved in a criminal complaint.
"It leads to a situation where at the exact stage where PIRC needs the strongest-possible powers, its powers are restricted and officers are being advised that they do not need to co-operate where there is a possibility of criminal complaint."
Mr Matheson said it would be inappropriate to comment on an ongoing investigation and he could not commit to asking questions about Sheku's death and reporting back to Holyrood as the case is "live" in legal terms.
He said he has received no complaint from PIRC about the scope of its powers to call in police officers for questioning as witnesses and that such requests are considered "on a case-by-case basis".
"Routinely, though, the normal process would be that if they had been a witness, they should not be relieved of their duties until an operational statement has been written, but that is also dealt with on a case-by-case basis," he said.System 'fundamentally flawed;, says solicitorLegislation governing the powers of the PIRC is "fundamentally flawed", says the Bayoh family's solicitor, Aamer Anwar.
Mr Anwar reacted angrily to the statement from Justice Secretary Michael Matheson that police officers are entitled to refuse to give a statement on deaths in custody if there is a chance they will be the subject of a criminal complaint.
Calling the situation "utter nonsense", Mr Anwar said the lack of power afforded the PIRC was a source of great frustration to investigators and MrBayoh's family. He said members of Police Scotland had also expressedirritation at what he termed a"dangerous loophole".
Mr Anwar and the Bayoh family intend to approach the justice secretary in a bid to have the law changed. "It's a fundamentally flawed piece of legislation," he said.
"We have a bizarre situation where the Scottish Government are putting out a stark response saying the PIRC have sufficient powers yet the PIRC have told the family now on several occasions that they don't have them.
"There has been a fundamental flaw in the drafting of this legislation and it's about time the Scottish Government woke up before someone else dies incustody. I would like to know who advised the Scottish Government on this because they have got it so wrong."