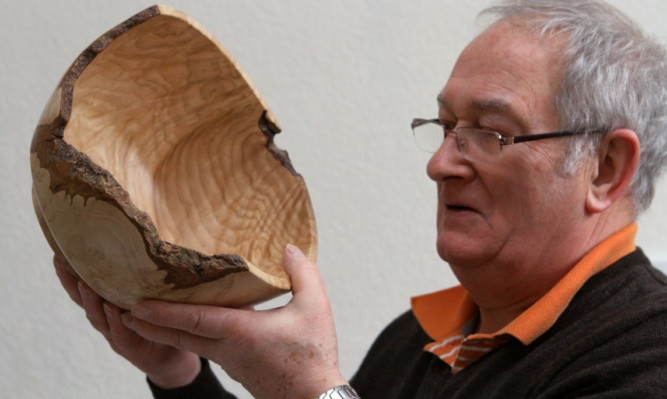 Former Wormit School pupil Dave Beatt, of Newport, was a 13-year-old at school in Tayport when he was first given the chance to use a lathe.
He can't remember what he made.
But he enjoyed it, and more than five decades later, after a career in retail and catering, the 66-year-old is now secretary of the Monifieth-based Taywood Woodturning Club and making crafted wood items from a purpose-built shed at the bottom of his garden.
"When I left school at 16 I worked in my father's grocer's shop in Newport High Street, where Scotmid is now," he says.
"I went to woodwork night classes after I left school. And it was about this time I bought a lathe powered by an electric drill which had one speed fast! I used to make table lamps in the garden shed."
Perhaps wood craft ran in his family. In the 1960s, his uncle David Beatt owned a cabinet-making workshop down the road from his father's shop near the jetty for the Tay ferries.
But Dave never pursued a career in wood himself. He married Jenny and they had two boys. Michael, 39, now runs a vintage furniture business in Sussex, whilst his other son Graeme, 37, deals with woods of a different kind as head green keeper at Royal Portush Golf Club in Northern Ireland.
Dave and his brother Ronnie took over the Beatt and Tait grocers business from their father Charlie after he retired due to ill-health in the late 1960s. In 1991, they sold the grocery business to former Dundee United chairman Eddie Thompson's Morning, Noon and Night grocery chain, and kept part of the premises on to do outside catering for functions, packing this up around eight years ago.
But the urge was always there to get back into wood turning and it wasn't until around 15 years ago that he again picked up the tools and began wood turning on an amateur basis. Now with his own purpose bought equipment, and as secretary of Taywood Woodturning Club which was formed in 1998, he makes items which he sells at local craft fairs.
Dave adds: "I like the challenge. The fact I can make something in an hour or a day whilst a cabinet maker can take weeks. I make lamps, bowls, wooden pens. I make them to sell them.
"Taywood Woodturning Club is a branch of the Association of Woodturners of Great Britain and when the Dundee Flower and Food Festival is on and the Glamis Extravaganza, we go there as a group. I also did various craft fairs in the run up to Christmas."
Amongst their aims, the constitution of the Taywood Woodturning Club seeks to foster a greater awareness and to promote the art of woodturning.
The club holds public demonstrations and exhibitions. Its present membership is around 65. Dave admits most of the members are of a certain age, but there are a few younger ones
The number of persons attending its monthly meetings, on the first Saturday of the month, at Monifieth is around 35.
Usually they have professional demonstrators or 'hands on days' where club members demonstrate and try to assist new members with their woodturning skills.
Dave adds: "For me it is just a hobby. Very few wood turners manage to make a living from it. It's amazing though when you tell people what you do and then they say they want to get rid of some wood, do I want any? Hard wood turns best. Soft woods are no use. One man handed me a piece of laburnum and I made him an eight inch wooden apple."
Dave says he gets a great deal of pleasure from what he does.
He concludes: "My old job I miss like a hole in the head. I get great satisfaction now. It's nice to make something that people appreciate."
www.taywood.org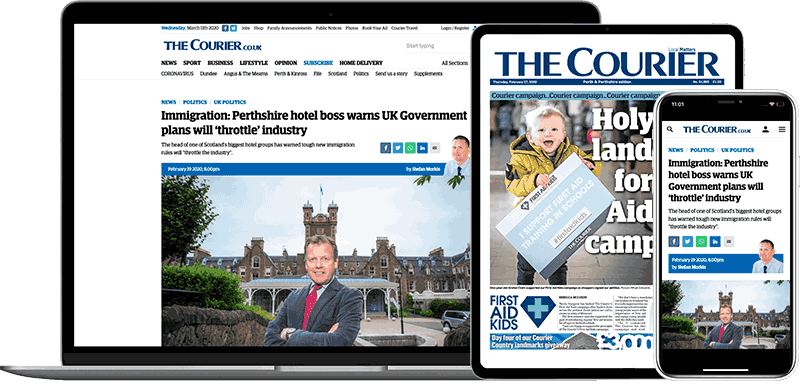 Help support quality local journalism … become a digital subscriber to The Courier
For as little as £5.99 a month you can access all of our content, including Premium articles.
Subscribe