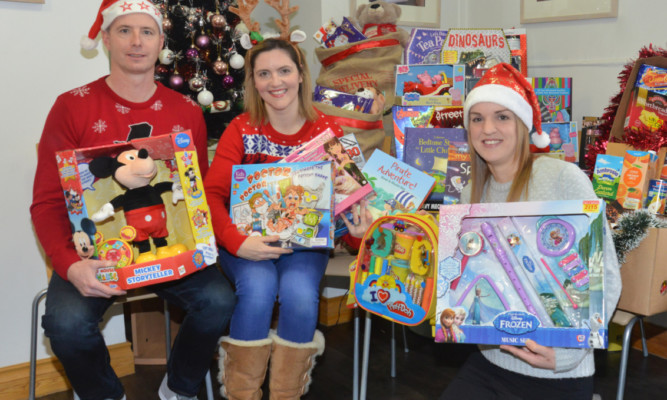 North East Fife is often regarded as a relatively well-off area.
But through her work as a Fife Council social worker, Victoria Leonard, 34, of Cupar, sees a very different, often hidden, side to the district.
Struck by the number of struggling families, she was inspired, along with other mums, three years ago to establish Toy Drive, based in Cupar, which aims to ensure that children from less well-off households across the area get at least a present and book at Christmas.
"The area often doesn't get the charity money from Dundee and a lot of the Fife money gets centralised in urban areas like Kirkcaldy," she said.
"North East Fife often gets forgotten about. A mixture of rural isolation, mental health issues, unemployment and resultant poverty can all take their toll on some families.
"That's why we decided to set up the Toy Drive three years ago, and we are growing from strength to strength."
Thanks to generous donations, this year 175 families including 330 children are receiving a special Santa Sack, compared with 60 families and 150 children last year.
Amongst those benefitting are three Syrian families, including five children, who have been re-settled in North East Fife. They received a special crate packed with toys, pyjamas and other gifts. It acknowledged that they had "absolutely nothing".
"The response has been amazing," said Victoria, a mother-of-two, who is Toy Drive co-ordinator.
"We were looking for donations of new and/or never used toys, suitable to be opened up on Christmas morning. We worked in partnership with local charities, nurseries, schools, health visitors, homeless officers, Gingerbread, Women's Aid and the social work department to identify as many families as possible. There was no shortage of referrals."
The Toy Drive is run solely by volunteers and covers the whole of North East Fife.
Victoria said a particularly "fantastic" partnership had been established with Tesco Riverside in Dundee. Toy Drive also worked closely with the North East Fife food banks.
There is even greater demand for help in Dundee where the Salvation Army is working hard to provide support.
It's 150 years since Salvation Army founder and Methodist minister William Booth was walking along the Thames Embankment in London when he was struck by the scale of homelessness, people trafficking and gin palaces.
Inspired to set up a 'Peoples' Church', he broke away from the Methodist Church and working with his son inspired an 'army' of people to provide 'salvation' for those in desperate need.
Today, the Salvation Army is the UK's largest provider of social care after the government.
And according to Dundee Salvation Army member Malcolm Page, 58, who is also the assistant director of homelessness services in the UK, its role is more relevant than ever.
From its centre in Thurso Crescent, Menzieshill, Dundee's Salvation Army provides meals, gifts and food parcels for many of the city's most needy through referrals from social work, welfare teams and faith groups. It runs a toy appeal and runs two homeless centres at Strathmore Lodge and Burnside Mill.
Malcolm spoke of the "desperate poverty" being experienced by many in the city and said this had been exacerbated by welfare reform a trend mirrored by the high number of food bank users in the city.
"A lot of people are really struggling,"he said. "Some of the people who come to us are homeless. Some have addiction problems. Others have a house but they don't really have a home. They might have a roof but can't afford the electricity. They are vulnerable and lonely in their communities. What we provide is support and an opportunity to meet friends, get a bite to eat, and allow people to retain dignity."
He added that the generosity of donations from Dundee people and businesses was "amazing".
A carol service was held on Friday night and on Christmas day, after a short service, a Christmas lunch will be held at noon to which all are welcome.
Meanwhile, a survey by the Samaritans has found that one in six people believe Christmas is the loneliest time of the year and nearly one in four say their problems feel worse during the festive period.
Research has revealed that this time of year can bring up painful memories, or worsen difficult feelings often related to family or relationship issues, financial or health worries, to name just a few.
Even with friends and family around, that sense of being alone with difficult thoughts or feelings, can make many people feel as if they have no one to turn to.
Now the Samaritans is prepared for an influx of calls over the festive period with volunteers throughout Fife and Tayside amongst those manning the phones.
Last year it responded to nearly 200,000 calls in Scotland from December 18 to January 1 but the charity estimates there could be more this year as demand for its services have been higher throughout the year.
Its counsellors have responded to 5.3 million calls for help in the last year, with 240,000 contacts in Scotland alone.
Kirkcaldy-based Samaritans volunteer Sandra, 58, who has asked for her surname to be withheld, has been with the Kirkcaldy Samaritans for almost nine years. She said the national trend was on a par with what was being experienced locally.
She said the important thing to remember is that no one needs to feel alone this Christmas. Samaritans volunteers are there to listen round the clock, every day of the year.
"We don't judge and we don't share what we're told, we're simply there to listen, provide emotional support and help people find a way through whatever's getting to them," said Sandra, who will be volunteering over Christmas.
Samaritans volunteers undergo intense training, have to be committed and have to fine tune their listening skills.
Sandra added: "Someone might say something but need a little coaxing to come out with more, sometimes what the real problem is. Sometimes people find it very difficult to talk. Sometimes they do not want to admit how they are feeling. It can be massive for someone to actually find the courage to pick up the phone. Some people will phone then hang up, or there might be a long silence. It takes courage to speak. We are here to listen."
Sandra said callers of all ages can be distressed or down about a bereavement sometimes years after a loss. These thoughts can intensify during the festive season as they think back to previous happier years. Other common worries are rooted in financial crises.
She added: "We help explore what their feelings are and what their options might be. We don't give advice as such but might be able to point them towards an organisation that can help them in a physical way. Perhaps they've had such deep thoughts going around in their heads for so long, often with no one to talk to, that they can't see the bigger picture. Often it's amazing when talking to people that they come up with a solution themselves. They just needed someone to speak to, to bounce ideas off."
Samaritans relies almost entirely on donations to run its 201 branches and train more than 21,000 dedicated volunteers, without whom it could not operate its life-saving services for those who need them most. The Kirkcaldy branch alone, for example, costs £25,000 per year to run. The charity also provides outreach work and supports training for listeners in prisons.
Anyone who would like to support Samaritans by making a donation, can find out how to help at:
http://www.samaritans.org/christmas
The national number if wanting to speak to a Samaritans volunteer is 116 123.