 Staff at a 24-hour supermarket became concerned at the behaviour of a man who bought a large knife, removed it from the packaging then wandered about the car park with it sticking out of a carrier bag.
Dunfermline man Leslie Mitchell, 32, a prisoner at Perth, had been given early release from a previous sentence when he was arrested for his suspicious actions in the early hours of the morning.
He told police later that he needed the knife for protection because another man was threatening him.
At Dunfermline Sheriff Court, Mitchell admitted that on July 30 at the Tesco store, Turnstone Road, he had in his possession a knife without reasonable excuse or lawful authority.
Depute fiscal Claire Bremner said at around 1am Mitchell had asked a staff member for directions to find where the carving knives were kept and she had shown him that aisle.
When the female staff member was taking a break at a smoking area outside the store later, she saw Mitchell and described him as "acting in a strange manner". After buying food and a knife, Mitchell walked through the car park then turned back towards the store and was seen to discard the packaging the knife had come in.
Police were contacted and found Mitchell in the Tesco car park in possession of a carrier bag with a large black plastic handle protruding from it.
The knife then fell out of the bag and Mitchell was arrested. He told police the knife was "for protection due to an ongoing feud with another male," the depute fiscal added.
Defence solicitor Elaine Buist said her client had consumed alcohol, smoked crack and taken valium and speed on the night.
"He has some recollection of purchasing the knife but no recollection after that," she added.
"There was a third party who had been making threats that he was going to stab Mr Mitchell."
Sheriff Craig McSherry ordered Mitchell to serve the unexpired portion of his previous sentence until April 15, imposing a 14-month jail term to run consecutive to that.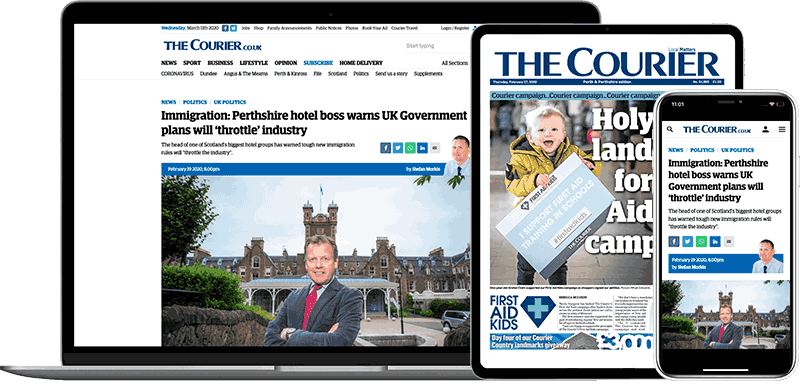 Help support quality local journalism … become a digital subscriber to The Courier
For as little as £5.99 a month you can access all of our content, including Premium articles.
Subscribe