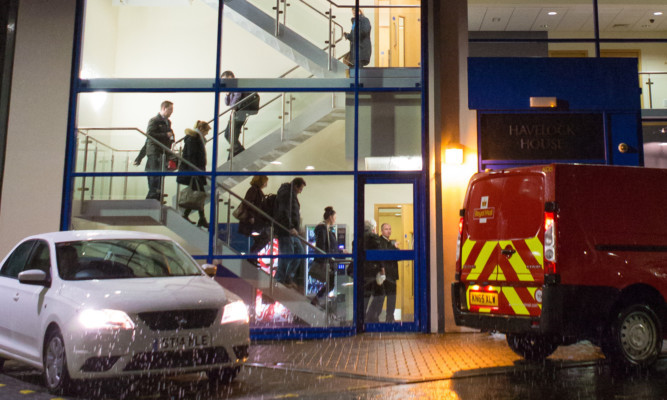 Havelock Europa, one of Fife's largest employers, is to make 50 workers redundant at its Kirkcaldy headquarters over the next month.
The move announced yesterday follows the loss of a major contract which has put the entire future of the shopfitting and interiors company at risk.
Havelock would not be drawn into predicting if the 50 redundancies would be followed by more job cuts.
The company, which recently moved its headquarters from Dalgety Bay to Kirkcaldy, has a total workforce of about 400.
They hope that the latest measure will help to put the firm on a more sustainable footing and put it in the best shape to survive after losing the major order from the Lloyds Banking Group.
Lloyds was Havelock's largest financial services client and the promise of lucrative branch and office refitting work had been set to put the Fife company on a secure footing for the foreseeable future.
Revenue streams attributed to Lloyds were worth £14 million to Havelock this year.
Last week Lloyds delivered the bombshell news that it would be substantially reducing its anticipated spend on refurbishment and development in 2016.
The banking group said it would be focusing the bulk of its workload through two other contractors. Havelock remained a supplier and would continue to be offered specialist projects.
The Lloyds setback prompted Havelock management to hold a series of urgent meetings to review operations and identify cost savings.
The talks resulted in a decision to axe 50 of the firm's 400 posts over the next month.
David Ritchie, chief executive, said: "Any decision to reduce jobs is an incredibly difficult one to take but we must respond quickly and decisively to this loss of income for the long-term good of the business and the wider workforce.
"We will, of course, do everything we can to support those colleagues affected over the coming weeks."
The loss of the Lloyds contract wiped almost £2 million off the value of Havelock Europa's shares.
Claire Baker MSP said: "The news of up to 50 jobs being lost at Havelock Europa is a further blow to its workforce and the wider Fife economy.
"We all understood that the decision taken by Lloyds to scale back their order with Havelock would have serious implications for the company and raised fears that further jobs would be lost.
"That these fears have come to fruition is a huge disappointment and underlines the difficulty facing many companies in Fife at the present time.
"It is therefore vital that we all work together to ensure those affected by job losses have all the support they need in finding new employment.
"In the meantime I will continue to speak and work with the company as they plan to diversify their business to ensure a sustainable future for their business and its remaining workforce."