 St Andrews University is to write to the Scottish Government about claims made by Fife Council leader David Ross over plans for Madras College.
Mr Ross objected to comments made by outgoing principal Professor Louise Richardson that failure to provide a new joint school for St Andrews was the biggest regret of her time in charge.
Prof Richardson said the university's offer of the 'pond site' at the North Haugh was "still on the table", a statement Mr Ross said was "disingenuous".
The university hit back yesterday saying the comments were "a contrived attempt to show that Pipeland (the council's preferred site) is the only possible site for the new Madras".
A spokesman added the university had been "extremely surprised by the council's reaction to innocuous remarks" made by Prof Richardson.
He stated: "She simply said that she regretted her own failure to realise a joint plan for a new Madras in St Andrews, and that the university's offer for a simple exchange of sites was still on the table.
"Both of these statements are indisputable fact."
He added: "The offer to which Prof Richardson referred a straightforward excambion of the pond site for Madras South Street remains very firmly on the table, as it has done since 2014.
"This is not 'disingenuous' as Mr Ross has stated, it is the truth.
"The site is not 'for sale' as Mr Ross has claimed in an excambion no money changes hands.
"This has been the university's consistent position since 2013/2014."
He said a sworn affidavit was submitted to the Court of Session to that effect in 2014, which remained unchallenged by either the local authority or its legal counsel.
The spokesman said: "For the leader of the council to seek to challenge it now beggars belief."
Mr Ross said the university refused to accept the District Valuer should set a land sale price but the spokesman responded that "relates to a period prior to 2014".
He said: "As Fife Council is fully aware, this significantly pre-dates the present offer of simple excambion which has been on the table for over a year and supplants any and all previous offers.
"He will also be aware that Professor Richardson telephoned him personally to repeat that offer and that the university has a record of that conversation.
"The allegation that our principal said one thing to the council and another to the public about this offer is utterly without foundation."
Mr Ross remained unreptentant last night.
He said: "Having walked away from initial discussion, the university then offered us a poor site with an unrealistic value and conditions attached to it.
"They knew that this site was inappropriate to develop for a new school.
"We've laid out these facts many times and on this point we have to fundamentally disagree."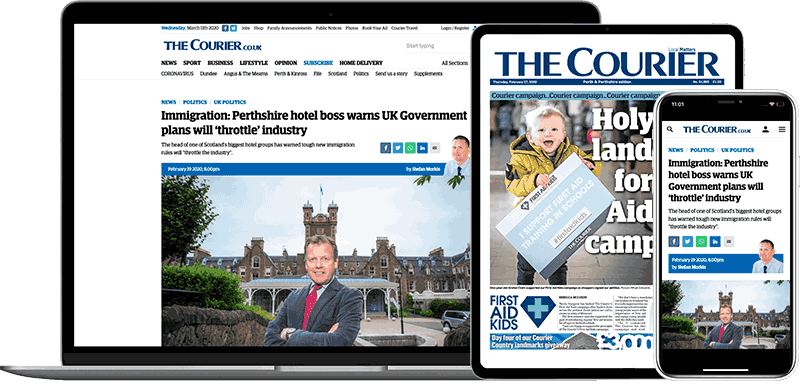 Help support quality local journalism … become a digital subscriber to The Courier
For as little as £5.99 a month you can access all of our content, including Premium articles.
Subscribe