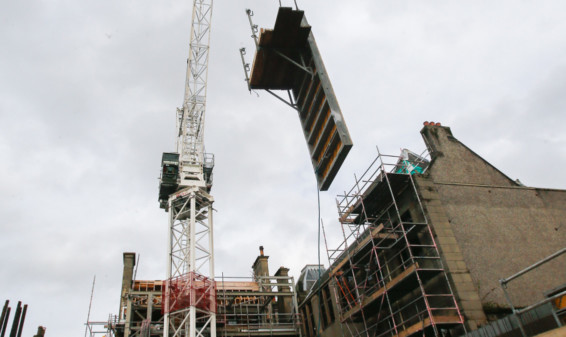 The Dunfermline skyline has been changed by the latest addition on the construction site of the £10 million Dunfermline Carnegie Library and Galleries.
A tower crane will be on site in the heritage quarter for 23 weeks.
Progress this year has included the partial demolition of the town house next to the library.
A structural steel frame has been erected along with concrete floor slabs and a roof structure behind the town house's historic facade.
The below-ground foundations and ground-floor slabs, forming part of the new extension, are almost complete, and work on the concrete frame and upper-floor slab works will start soon.
The project is being funded by Fife Council, the Heritage Lottery Fund, and the Carnegie Dunfermline Trust.
Fife Cultural Trust will operate the new facility when it opens and is raising funds to meet the final contributions needed to deliver the project.
Councillor Gavin Yates said: "A great range of high quality cultural experiences will be on offer here, with a modern museum and art gallery integrated with the surrounding historic listed buildings, including the Dunfermline Carnegie Library.
"This facility is set to be a great asset to the heritage quarter and wider town centre.
"The integrated cultural hub hopes to attract up to 280,000 visitors and contribute a visitor spend of at least half a million pounds to the local economy each year.
"Reducing budgets and changes in the way people are accessing library services is in the spotlight here in Fife at the moment.
"Investing in this integrated facility at this time will somewhat help to future-proof the world's first Carnegie Library, which continues to be a well-used library but was in need of some refurbishment work."
Display design and activities curator Lesley Botten added: "It was really exciting to watch the huge crane boom being assembled on the ground in Canmore and Abbot streets and then being lifted right over the roof of the library.
"It's exciting, too, because the crane's arrival means that all the very necessary foundation work is nearly finished and the walls of the new building will soon start to rise."
Doug Keillor, regional director for Bam Construction, added: "The crane going up is definitely a milestone for us and the team have done a lot of hard work behind the scenes to get us here.
"Getting out of the ground was a very challenging technical job, so we're really looking forward to starting the superstructure and people will shortly be able to see the new building taking shape."