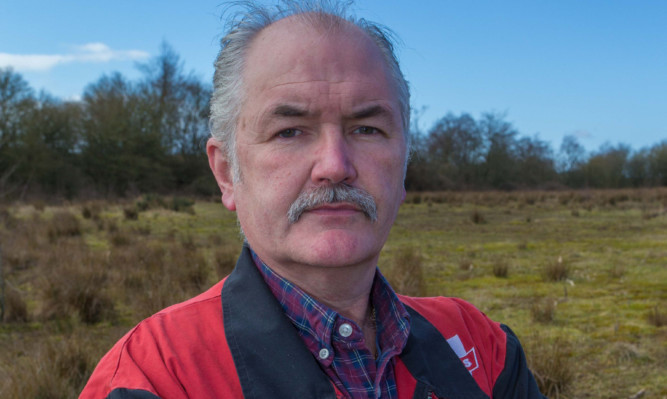 An outraged business owner has attacked Fife Council over proposals to establish a Traveller camp in Glenrothes.
Stuart Dunn, managing director of Air Compressor Services (ACS), has told The Courier he and other operators in the Southfield industrial estate will not tolerate the creation of a seasonal site for Travellers if the area is selected by planning officials.
The council is examining the possibility of establishing a facility at either the Southfield or Whitehill industrial estates, in response to a series of incidents last summer.
But the prospect of establishing a camp in the town's industrial heartland which has a history of problems with Travellers has alarmed business owners, prompting them to organise a petition.
Mr Dunn told The Courier: "There is a duty to care for Travelling people. I don't have a problem with that but I do have a problem with Fife Council.
"There's a site at the back of police headquarters on Detroit Road with access. Any aggravation or illegal activity there can be sorted.
"Travelling people need to be housed somewhere but everyone should be working together.
"I would like Fife Council to justify why they are picking an industrial zone."
The council has decided to establish a seasonal camp, which would operate between March and November, to complement three permanent sites at Kirkcaldy, Kelty and Cupar. It follows years of problems in Glenrothes, where clearing up illegally-established camps has cost thousands of pounds.
Last week the local authority ruled out establishing such a site at a former depot on Strathore Road, Thornton, leaving just Southfield and Whitehill in Glenrothes as candidate locations.
Mr Dunn says he and other businesses in Southfield have experienced problems in the past, with as many as 20 caravans parked outside his premises.
He claims he has witnessed Travellers defecating and urinating in public, while his staff were subject to repeated verbal abuse.
Mr Dunn added that instances of vandalism and fly-tipping also soared while the illegal camp was in place.
A number of businesses have now joined forces to distribute a petition, airing their concerns about the suitability of establishing the seasonal facility in an industrial area.
Councillor Bill Brown said that while he agreed with the need for a new site, industrial estates are not suitable.
"I agree that we need suitable legal sites that are in the best place for the Gypsy Travellers and for businesses and residents," he said.
"If we don't have suitable legal sites identified then the Travellers will set up camp wherever they can, until they are forced to leave.
"The possible location being considered at Whitehill and Southfield industrial estates is not the best site, in my opinion.
"Businesses currently face a number of challenges and we need to attract new enterprise into that area.
"I am sure that more suitable sites can be found where Gypsy Travellers would be happy to stay for a while."
Promising to consult with businesses and community councils when a suitable site is identified, John Mills, head of the region's housing services department, said: "Any proposal to seek additional sites for Gypsy Travellers is controversial in the eyes of the public but the council has a duty to provide accommodation and to seek to prevent the mayhem that local businesses experienced last year.
"Officers are examining several sites in the area and no decision has been taken on the suitability of any site yet."