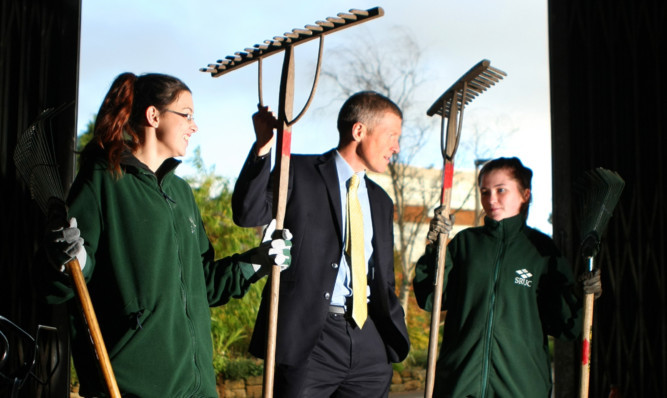 Assurances have been sought over the future of Scotland's Rural College's Cupar campus.
Scottish Liberal Democrat leader Willie Rennie said the former Elmwood College site's prospects were unclear amid funding cuts and the planned pull-out of Fife College from the town.
The Mid Scotland and Fife MSP held talks with staff and students on Monday in a bid to clarify the situation.
He expressed fears that the 140,000 college places lost across Scotland since 2007 could increase when Fife College leaves next autumn.
Scotland's Rural College (SRUC) has run Elmwood since a merger with three other land-based colleges in 2012.
Mr Rennie said: "Fife College has given notice they will be moving out of the Elmwood campus next August or September and I wanted to get some kind of idea from SRUC of what their plans are for the future bearing in mind there will be some loss of income from the college leaving.
"They were saying they're hoping to keep some kind of partnership with Fife College and there is also a land-based strategy between the further education sector and the rural college across Scotland."
The MSP told The Courier that an unequivocal answer on the college's future was yet to be given.
"I will be watching the situation very closely to make sure SRUC continues there," he said.
"Because discussions haven't concluded yet, the final judgment has yet to be determined.
"I want to ensure their presence continues on the site."
Mr Rennie said the college was working very hard to eradicate uncertainty.
"I was reassured they are addressing the problem but they don't have an answer yet," he said.
"They have good strong elements there such as catering, horticulture and golfing that they should be able to build on.
"There's potentially a really good future for the site but they need to go through this rocky period, especially when budgets are continuing to contract."