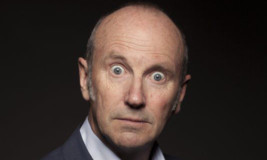 Fred MacAulay and the BBC sketch duo Burnistoun have joined the star-studded line up for a comedy charity gala organised by a Fife campaigner.
The sell-out show, supporting Fife man Gordon Aikman's efforts to fund a cure for motor neurone disease, could already raise more than £25,000 from ticket sales alone.
The money from the show takes Gordon within almost £2,000 of his £250,000 fundraising target.
The news comes as organisers announce the full line-up for the Stand Up for MND: Gordon's Fightback comedy gala, taking place at Glasgow's King's Theatre on Monday March 23.
The stellar line-up for the show, part of Glasgow International Comedy Festival, includes Stewart Francis, Frankie Boyle and Mark Nelson.
Gordon said: "The line-up for this night reads like a who's who of comedy. It's amazing to have so many big names coming together to fund a cure for MND.
"Thanks to everyone involved, we are £25,000 closer to finding that cure.
"Please dig deep and donate what you can at gordonsfightback.com. It'll be too late for me, but we can and we must find a cure for future generations."
Fred MacAulay said: "This promises to be a brilliant night to support a brilliant young man.
"What Gordon is doing in the face of his MND diagnosis is incredible.
"I hope everyone has a great laugh on the night but gives generously too, because we really need to find a cure for this horrible disease."
To raise this much money already is "absolutely amazing", according to Iain McWhirter, head of fundraising and volunteering at MND Scotland.