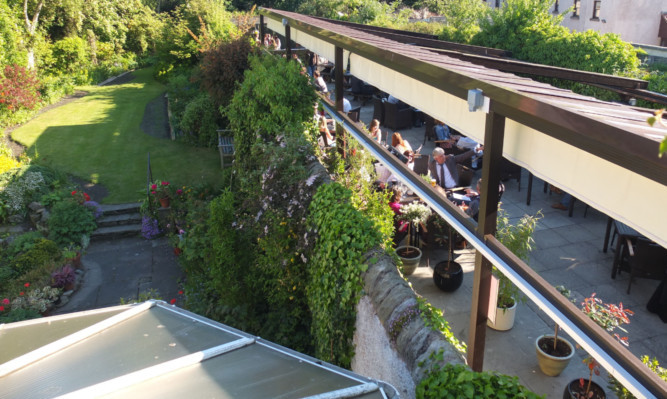 Fife Council's proposed solution to a planning blunder in which a large covered beer garden was called a pergola has been slated.
Officers have suggested that 30 inches be lopped from the height of the 54-foot-long structure in St Andrews, which blighted the final days of its elderly neighbour.
David Turner whose late mother was unable to sleep in her own bedroom because of the noise of customers outside said the action recommended is extraordinary.
Fife Council apologised to Mr Turner and his family after the Scottish Public Services Ombudsman criticised failings in its handling of the case.
Instead of ordering the West Port Bar and Kitchen to rip down the retractable roof as Mr Turner hoped, officers have asked councillors to approve an enforcement order requiring the "modest" modification.
A decision will be taken on Wednesday at a joint meeting of the north east Fife area and north east planning committees.
Mr Turner said: "Considering that these were amazing breaches of planning law and the handling that the Ombudsman has completely condemned, to end up in a situation where there is a very modest reduction in height which still leaves a huge eyesore with overshadowing seems extraordinary, to me.
"I'm understandably very unhappy about what has been recommended."
When councillors issued planning consent for the structure in early 2012, they were told it was a pergola which the Oxford dictionary describes as an arched framework with climbing or trailing plants and wrongly informed there were no objections.
Neighbours and councillors were stunned when the 10ft-wide roof went up and heating and lighting were installed. The structure rises above the garden wall of the Turners' South Street house and Mr Turner's mother, who died shortly after it appeared, suffered stress as a result of the debacle.
After an inquiry, the Ombudsman said planners' failure to change the applicant's inaccurate description of the structure had "major consequences" for its assessment.
In response to recommendations by the watchdog, the council said it had apologised, made improvements to objection logging, issued new guidance to staff and was reviewing procedures for recording notes and photographs from site visits.
The final action was to consider whether planning consent should be withdrawn or enforcement action taken.
Councillors will be warned that costs of forcing removal of the pergola could be significant and include a claim for compensation by the premises owner.
The manager of the West Port Bar and Kitchen was unavailable for comment.