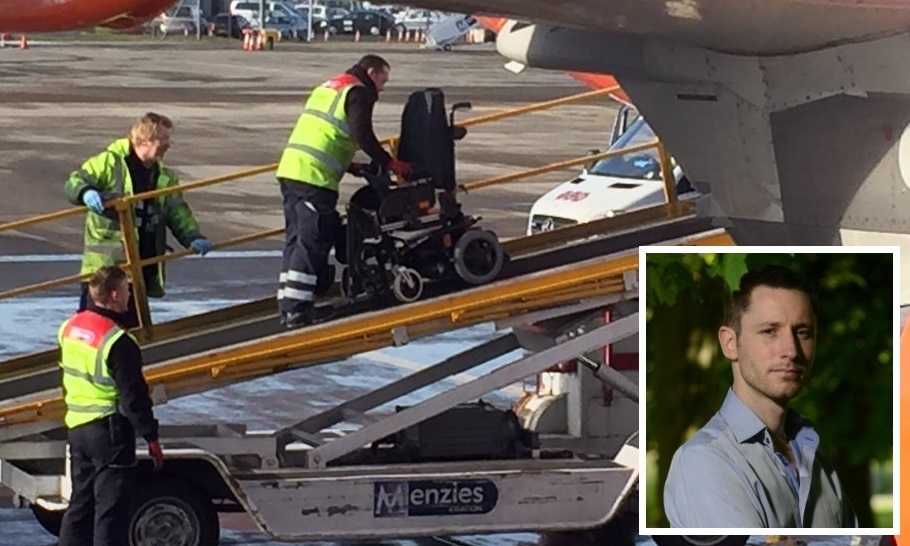 It was the dream honeymoon Gordon Aikman and his husband had looked forward to.
But Air France nearly scuppered the newlyweds' Paris plans when it refused to allow Gordon's electric wheelchair onboard.
The airline wrote to the motor neurone disease campaigner, who has raised more than £400,000 to fund research into the disease after being diagnosed in 2014, telling him his wheelchair, which is vital to enable him to get around, would not fit in the plane's hold.
Grrrrrreat! 'Sorry sir, you can't take your legs on this @AirFranceUK flight' Thanks guys! #AirFranceFAIL pic.twitter.com/xdynHl6PYC

— Gordon Aikman (@GordonAikman) February 12, 2016
But at the 11th hour, the couple have been able to jet off to the romantic capital thanks to rival airline easyJet.
Speaking to The Courier from the check in desk in Edinburgh, Fife-born Mr Aikman said: "The treatment I have had from Air France has been appalling.
"Life isn't worth living without my electric wheelchair, but Air France has made no effort to resolve the situation whatsoever, it has just ignored me, has offered no alternative," he added.
He revealed he had tried for more than a week on costly 0871 numbers trying to speak to Air France to resolve the issue but without success.
In frustration he turned to social media to discuss his plight, gathering huge support, including from Scottish Labour Leader Kezia Dugdale who tweeted: "Hey @AirFranceUK, all this guy wants to do it go on his honeymoon. What can you do to make that happen?"
Mr Aikman, who is asking for an apology from the airline's chief executive and a refund, added: "They definitely need to change how they operate.
After epic #AirFranceFAIL… we are off! #ProjectHoneymoon is GO! ? Thankfully @easyJet is in the 21st century ? pic.twitter.com/pAuk2VCGQ4

— Gordon Aikman (@GordonAikman) February 15, 2016
"In 2016 it is not okay to treat anyone as second class citizens."
The Courier attempted to contact Air France but received no reply.
However, easyJet, which flies more than 360,000 passengers requiring a special assistance every year, did respond.
A spokesman said: "We were delighted to fly Mr Aikman and his partner on their honeymoon and hope that they have a lovely trip."