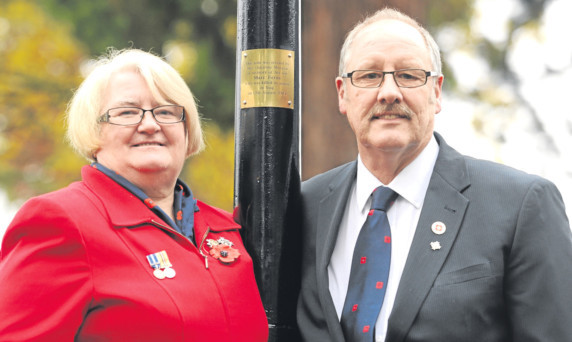 A memorial to one of the first Black Watch soldiers killed in Iraq has been unveiled in Perth.
Marc Ferns, 21, from Glenrothes, died following an improvised bomb attack in the city of Basra on August 12 2004.
Last year his family raised more than £5,000 for the Black Watch Association to mark the 10th anniversary of his loss.
While the majority will be used to help veterans and their families, some was used to erect a signpost within the grounds of the Black Watch Castle and Museum. It bears a polished brass plaque dedicated to Private Ferns' memory.
Speaking after the unveiling, his mother Christine Morgan, who wore miniatures of her son's medals for the occasion, said: "It was a bit emotional but I'm very proud.
"We felt that after 10 years we should do something big for the anniversary.
"I talk to him every day, to his picture. We miss him every day but I just feel that he would be the first to do something for the people who have come back (from the conflicts)."
She said the family also raised £500 to repair a memorial garden dedicated to her son after it was hit by vandals.
The plaque unveiling was followed by a service to remember all 14 members of The Black Watch killed in Iraq and Afghanistan.
During the main service Mrs Morgan laid a cross-shaped poppy wreath at the castle's memorial, while her husband Ian laid a bunch of red roses on behalf of Pte Ferns' 12-year-old daughter Amy.
The service was led by the Rev Alex Forsyth, who conducted the funeral services for seven of those who fell including Private Ferns.
He said: "Having been involved with the families, this is always a poignant service for me."
Provost Liz Grant, who laid a wreath on behalf of Perth and Kinross Council, said: "This is one of the first services that I come to where the recently bereaved families are present.
"And it's always very moving."
Pipe Major Alistair Duthie opened the ceremony by playing the Gathering of the Clans, the traditional gathering tune of The Black Watch. He later played a variety of tunes, including Hielan' Laddie, The Black Watch's regimental march.
Pupils from Kinnoull Primary School recited In Flanders Fields by John McCrae before members of The Black Watch past and present paid their respects by laying wreaths.
The Last Post was played by cornetist Stewart Malcolm, who also played Rause.