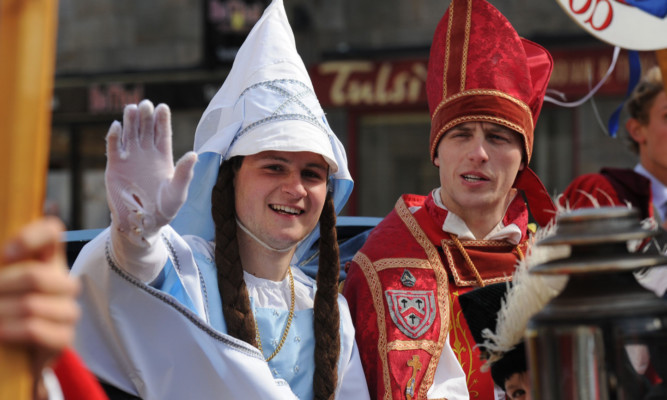 Hundreds of people lined the streets to see the annual Kate Kennedy procession in St Andrews at the weekend.
The changeable weather was kind to organisers and the route, from St Salvator's Chapel around the town to St Salvator's College, remained dry.
This was the 89th procession in its contemporary form since its revival back in 1926 as the basis for founding the Kate Kennedy Club, a historic student-run club at St Andrews University, which has safeguarded the tradition ever since.
Every year the identity of "Kate" is kept secret until she appears. First-year student Angus Giddens was chosen for the role.
There was a new look to the parade this time, with new costumes and extras to add to the colour of the day.
* Click here for a full photo gallery
Mark Dennis refurbished costumes and added new features and accessories.
Kate Kennedy Club spokesman Adam Shaw said: "It all went very well, it was a great show.
"Everyone warned me it was going to rain, but it was wonderful and the sun shone all day long.
"The crowd was great and every street was full it was a real family day out."
Paying tribute to all those who had helped to organise the day, Adam spoke of the "great joy and pride" in keeping the tradition alive.
"With increasing costs and different things, it is quite difficult to stage such an historic pageant," he said.
"It is with a great deal of pride that we see so many people help and so many people from the town, and all around St Andrews, come out and support the procession."