 Twice as many women are now dying from lung cancer than breast cancer in Fife.
The disease is the most common cause of death from cancer among the region's females, with 38% more women dying from it in 2013 than a decade ago.
There has been a 25% drop in the rate among males over the same period and in 2013 more women than men died from the disease.
The statistics are said to reflect past smoking trends among men and women, with females traditionally starting later.
Scotland's leading cancer charity has called for the continuation of support for people who want to stop smoking on the back of the figures, revealed in a report by Fife's director of public health, Edward Coyle.
Cancer Research UK also wants to see standardised packaging for all tobacco products, in a bid to stop children from starting smoking.
Gregor McNie, senior policy and public affairs manager for Cancer Research UK in Scotland, said: "Lung cancer is the most common cancer in Scotland and also the biggest cancer killer, which reflects smoking trends in previous decades.
"More than 80 per cent of lung cancers are caused by tobacco, so efforts to reduce smoking rates remain vital."
He added: "Providing support, such as the NHS stop smoking services, must continue and plain, standardised packaging for all tobacco products must be introduced as soon as possible if the UK is to give millions of children one less reason to start smoking."
Cancer accounted for 1,126 deaths in Fife in 2013 more than a quarter (26%) of which were caused by lung cancer.
Dr Coyle said in his report: "Lung cancer was the most common form among both males and females, accounting for 297 deaths. There were more female lung cancer deaths (52%) than male in Fife in 2013."
He added: "Rates of lung cancer deaths among women in Fife have increased by 38% since 2001, whilst rates among men have decreased by 25%.
"This reflects past trends in the prevalence of smoking among men and women with smoking being more common among men earlier than among women, which is now being seen in both lung cancer incidence and mortality.
"The number of female lung cancer deaths (153) was more than twice the number of breast cancer deaths (63), the second most common cause of cancer death among women."
The Fife statistics reflect the national picture, with lung cancer rates in Scotland almost doubling in the past 40 years.
NHS Fife has an action plan in place to help more than 760 people quit smoking for more than 12 weeks.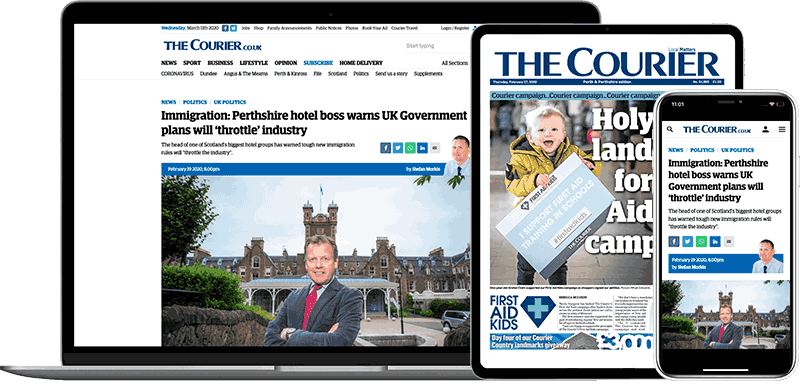 Help support quality local journalism … become a digital subscriber to The Courier
For as little as £5.99 a month you can access all of our content, including Premium articles.
Subscribe