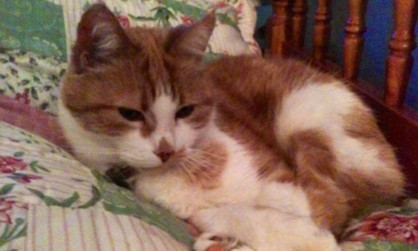 A Tayport cat owner is heartbroken after her pet was mauled to death by a dog near her home.
Norma Anderson, 46, fought back tears as she described finding 18-year-old Mac dying under a car after the ginger and white moggie was attacked by a greyhound that had escaped from a neighbour's house.
The rescue dog had been rehomed by a greyhound sanctuary, which confirmed the owner had signed an agreement accepting his responsibility for any injury caused to other animals.
A source at the greyhound centre, who asked not to be identified, said all necessary checks had been carried out before the dog was rehomed.
The Retired Greyhound Trust described the incident as an "unfortunate accident" and said such events were rare, with the trust rehoming 4,000 dogs of the breed every year.
However, Ms Anderson said: "I feel the greyhound society need to overhaul their policies because greyhounds are trained to chase and attack anything smaller than them. The owner hasn't even chapped my door to apologise."
It is understood the greyhound slipped out of a house as its owner was welcoming party guests and went straight for Mac.
Since the incident, the greyhound has been taken back by the centre.
According to the centre's website between 20-30% of greyhounds are "cat tolerant".
The site adds: "We do request that you don't have a cat or small dog and you don't have very young children.
"Ideally you should also have a fenced in garden, preferably six feet high.
"Under no circumstances should a greyhound be let off the lead except in totally safe, high fenced, secure areas."
A spokesman for the Surrey-based Retired Greyhound Trust said: "Some greyhounds are perfectly fine living with other small animals and we do home greyhounds with cats.
"Generally, greyhounds work quite well in a home environment, but every once in a while an unfortunate accident happens."
The Courier attempted to contact the former owner of the greyhound, but was unsuccessful.
Police Scotland said no one had been charged in connection with the incident.
However, Fife Council confirmed they were investigating the matter under the Control of Dogs (Scotland) Act.
Scottish SPCA Chief Superintendent Mike Flynn said: "We are very sorry to hear about this incident, which has resulted in a cat dying a horrible death.
"Our thoughts are with the owner at this sad time.
"All dog owners have a responsibility to ensure their pet is under control at all times in both public and private places."
A report has been sent to the procurator fiscal.