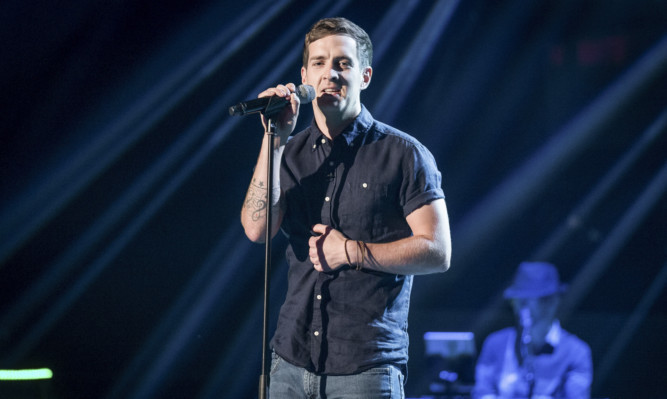 Scottish winner of The Voice and former Fife firefighter Stevie McCrorie will be releasing his debut album, Big World, as early as January 2016.
McCrorie was famously entered into the BBC singing competition by his colleagues in the Kirkcaldy fire services.
He won the show in April this year, with Kaiser Chiefs' Ricky Wilson as his mentor.
He said winning the show was always a "stepping stone" to "becoming the artist he wants to be".
McCrorie said: "I didn't want to take the easy route. I wanted to take the harder approach to prove I am a songwriter. The public want to hear something real."
His first single, titled My Heart Never Lies, is available now on iTunes, as an instant download with the pre-order of Big World.
Talking about the song he said: "My mate, who has a daughter, said he started crying to it. That's what I want the song to do. It's about being away from [my daughter] Bibi, however it doesn't mention a kid, so it can relate to anybody leaving home."
He will perform the single on BBC's Children In Need in Scotland this week.
The next series of The Voice will be the last to air on the BBC after it refused to get into a "bidding war" to keep the show.
Mark Linsey, acting director of BBC Television, said:"The BBC is incredibly proud of The Voice, but the fifth series which starts in January will be our last.
"We always said we wouldn't get into a bidding war or pay inflated prices to keep the show, and it's testament to how the BBC has built the programme up – and established it into a mainstay of the Saturday night schedule – that another broadcaster has poached it."
The BBCs director general, Lord Hall, also appeared to recently confirm the show was heading to ITV.
He told the House of Lords Communications Committee: "I said at the time when people were saying 'What do you think of The Voice?' I think The Voice is a really, really good programme. I think we've made it, I think it's brilliant. I'm sad it's going, but there we are. I hope ITV, and I'm sure they will, will really sort of run with it, and keep on making it a success."
ITV has refused to comment on speculation that the show will be moving to the broadcaster.