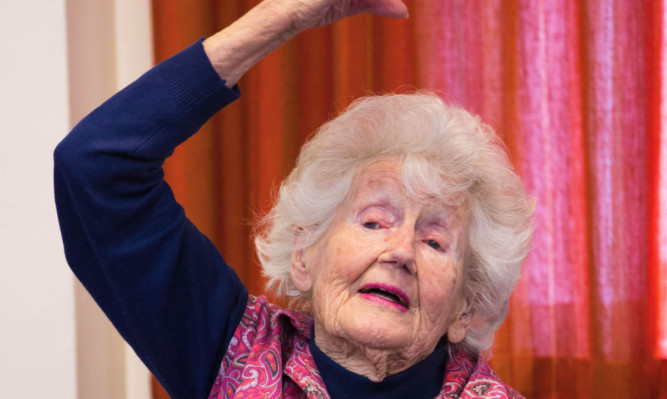 A woman who is believed to be the oldest yoga teacher in the world has vowed to continue holding her popular classes after her 100th birthday.
Connie Dennison, who has led sessions at St Leonard's Church in Dunfermline for 40 years, held a yoga session just last week.
However, after suffering a fall, Mrs Dennison, of North Queensferry, is now hoping to be fit enough to resume the classes after she turns 100 later this year.
The nonagenarian has promised to fight back to full fitness for the new term.
She said: "I've not been as fit as I would have liked recently but I am determined to carry on with my classes. My ladies in the class are like family now and I wouldn't like to disappoint them.
"I had a small fall recently which has affected me and the shingles has left me with a slightly weak left side, but I have been practising yoga for more than 40 years so it will take more than that to stop me."
Mrs Dennison, a great-grandmother of 10, first took up the fitness regime around 50 years ago while living in Melbourne, Australia, after spotting an advert on a tram.
For the past 40 years Mrs Dennison who will get her birthday correspondence from the Queen on August 4 has been passing on her knowledge to members of her class.
She said: "From the start I was hooked and have been practicing it almost daily since then. It is a wonderful exercise routine and it so healthy for the body and the mind.
"The problem back then was nobody had really heard of yoga and it was considered by some to some kind of New Age fad."
Her enthusiasm for yoga has also spread through her family. Daughter Carol, 72, granddaughter Susannah, 45, and even nine-year-old great-granddaughter Coco, are all keen practitioners.
Mrs Dennison was recently put forward for the title "World's Oldest Yoga Teacher" after reports named 96-year-old Tao Porchon-Lynch from New York as the Guinness World Records holder.
But Mrs Dennison, who was born in Lancashire, was denied the title as she does not hold any official yoga qualifications.
She said: "When I first started nobody had heard of yoga never mind have qualifications in it.
"I am not one to hog the limelight so I couldn't care less about any records, as I am quite happy doing my own thing in my own time. I'm just determined to get back to my ladies at St Leonard's as the new session starts in September."