Gordon Brown reveals letter in which MoD admits Dalgety Bay contamination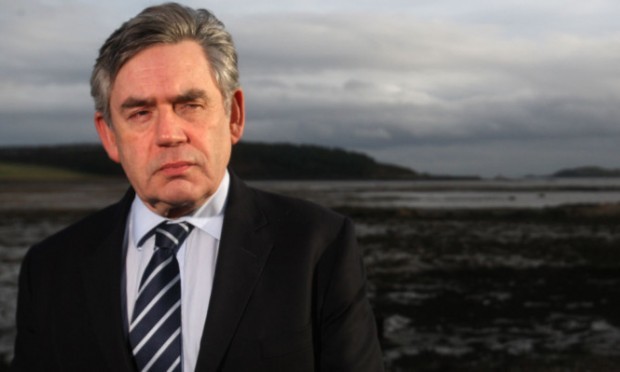 Fife MP Gordon Brown has revealed the contents of a letter which he says ridicules Ministry of Defence denials over Dalgety Bay radiation.
The letter, seen by The Courier, was sent from HM Industrial Pollution Inspectorate (HMIPI) to recipients including Lord James Douglas Hamilton in 1990 and states there is "little doubt as to the origins of the contamination".
A recent Scottish Environment Protection Agency (Sepa) report pointed the finger firmly at the MoD as the party responsible for radium-226 particles found at Dalgety Bay beach.
But the MoD said it had concerns over the "adequacy and validity" of Sepa's approach to the study.
It is stated in the 1990 memo: "MoD confirmed that some 800 aircraft were scrapped during 1946 at the nearby RNAS HMS Merlin and that the aircraft would have contained instruments and equipment luminised with radium.
"There is evidence that debris from demolition work at the air station was used for infilling purposes between 1946 and 1951.
"This information, together with the nature of the contaminated debris which has been found, leaves little doubt as to the origins of the contamination."
Mr Brown, who is set to raise the issue in the House of Commons today, said: "Everything the MoD has denied for the past two years is both disclosed and admitted in the private memo sent to Lord James in September 1990.
"I will call for the MoD to do the decent thing accept the blame, fund the much-needed clean-up work, and start now.
"In 1990, the MoD was prepared to accept their responsibility it is arrogant beyond advice…..for the MoD to refuse to accept responsibility now.
"It beggars belief that when 1,000 radiation contaminated particles have come to the surface in Dalgety Bay, the ministry has tried to pass the buck, blaming developers, landowners, the sailing club and the council for pollution that they know they created.
"If the Ministry does not act soon, Sepa will have to declare Dalgety Bay a radiation contaminated area."
According to Mr Brown's office, the memo was "buried in the Scottish records office".
An MoD spokesperson said: "It is wrong and misleading to claim that the MoD has carried out a cover-up at Dalgety Bay. We continue to demonstrate our serious commitment to voluntarily assisting Sepa, the Scottish Government and the Dalgety Bay Forum.
"We fund, at our own cost, monitoring arrangements at Dalgety Bay and once satisfied as to the validity of Sepa's findings will consider any requirements made in accordance with its statutory role."