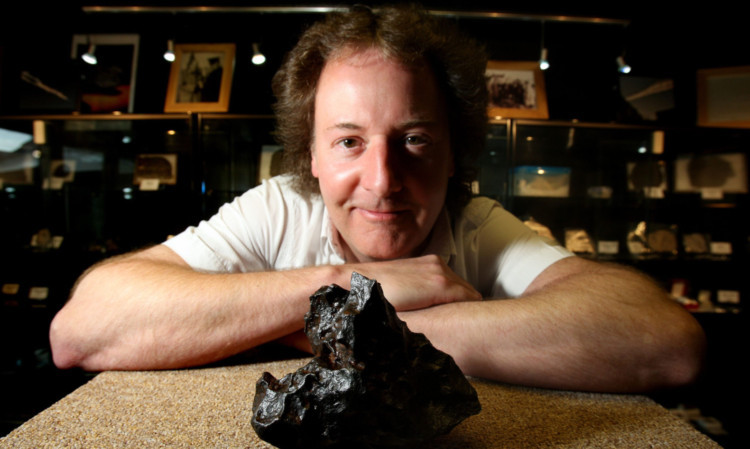 A selection of meteorites found across the globe by intrepid Fife collector Robert Elliott will be auctioned in Edinburgh on Tuesday.
Mr Elliott, from Milton of Balgonie, is the owner of the UK's largest private collection of space memorabilia, which was valued at around £1 million several years ago.
The collection includes one of the only pieces in the west of the Russian meteorite Chelyabinsk, which made headlines earlier this year, and was smuggled out of Russia by Mr Elliott.
Auctioneers said there had been particular interest from several Russian collectors, with the space rock expected to make around £300-£400.
A total of 60 rocks from Mr Elliot's collection are being sold next week and are expected to realise around £90,000.
On February 15 a small asteroid entered the Earth's atmosphere over Russia, with an estimated speed of 41,000 miles per hour.
At around 50 times the speed of sound, a huge, brilliant fireball was formed, brighter than the sun and bright enough to cause moving shadows on the ground, as it tracked across the sky.
Due to its enormous velocity, the meteor exploded many times over Chelyabinsk at a height of about 15 miles.
The explosions ripped the meteor apart, reducing the massive object to thousands of pea-sized meteorites, which were lost in the snow in and around Deputatsky village.
Some seconds after the explosions, the pressure wave reached the ground, causing damage to people and property.
A high brick wall of a factory was knocked down and hundreds of windows were blown in, with up to 1,500 residents injured by flying glass.
The event was captured on many car dashboard cameras and the videos quickly became worldwide news.
Found just hours after the fall, this is one of the freshest Chelyabinsk meteorites available to collectors.
Mr Elliott said: "The Russian government told the local residents that they would arrest anyone selling pieces of the meteorite overseas, so my contact had to disguise the airmail package and mix the meteorites with pieces of electronic equipment to hide them.
"The package was still opened by Russian customs, and several meteorites were confiscated, but most of them made it through to me."
It is estimated that each year approximately 30 meteorites fall on British soil yet only 20 have ever been found, only four in Scotland.
His collection consists of more than 90 items from space and, as one of the world's leading meteorite experts, Mr Elliott has been responsible for identifying three significant finds the Glenrothes meteorite in Fife in July 1997; the Hambleton meteorite in North Yorkshire in 2005; and the remains of a meteorite which fell in a Perthshire field last year.
"Perthshire is a hot spot," Mr Elliott said. "My next hunting expedition will be centred there, although I will not say where."
Over the past six years he has sold parts of his cosmic collection in various stages, netting a total of around £500,000.