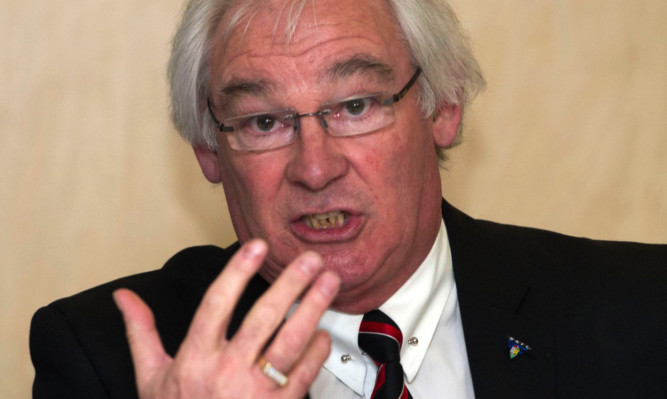 Dunfermline fans will gather tonight in the town's Carnegie Hall in the hope of hearing that their club has a future.
The Pars are on the brink of liquidation, with a writ from Her Majesty's Revenue and Customs for unpaid tax of £134,000 threatening closure in just over a week's time unless owner Gavin Masterton and fans' groups can find a solution.
So it is no exaggeration to say the gathering will be one of the most important in a history stretching back to 1885.
Club legend Jim Leishman, head of the steering group set up to try to save the East End Park side, will get to his feet tonight in the famous old venue to give a full and frank assessment of how the land lies.
It will kick off at 7pm, an hour after Leishman has consulted his fellow steering group members and brought them up to date.
It could hardly be more serious for the Pars, with administration not even an option according to Leishman.
Asked if administration was a possibility in the absence of a positive outcome to the crisis, he replied: "I think it goes straight to liquidation, as far as I have been told."
Leishman has spent every day since the steering group was formed frantically trying to bridge the gap between Masterton, who owns 94% of the club, and disgruntled supporters who are distraught at the thought of the doors closing.
He has laid out the stark financial realities facing Dunfermline, saying: "We are due £134,000 to HMRC, while the players are due £12,000 and the staff £23,000 a total of £35,000 in back pay.
"Then, at the end of this month, there are wages to pay again so they reckon there is about £270,000 to find in the short term."
Leishman, who revealed he had to find out about the winding-up order from team manager Jim Jefferies, added: "There is only a short period of time before the HMRC writ kicks in."
A proposal from the joint Dunfermline supporters group has been put to Masterton in a bid to clear the way for a share issue and he has come back with questions for the supporters to answer.
What Leishman is determined to be able to do tonight is give clear and concise information to supporters.
He said: "We have to go there with all the facts and figures we know and tell the fans. The fans know that I won't tell them lies."
The steering group have organised a bucket collection for tonight and volunteers willing to help should contact: wobraisby@braisbyroofing.co.uk.