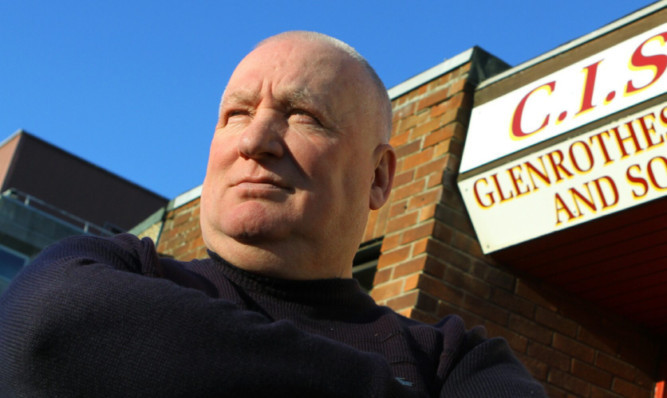 Householders from across Fife could be financially crippled by the introduction of the "bedroom tax," according to a Glenrothes community leader.
David Nelson, chairman of the Auchmuty and Dovecot Tenants and Residents' Association, says he has been approached by concerned residents who fear they could be forced to give up their properties or lose substantial sums of money when changes to housing benefit come into effect next month.
Mr Nelson has organised a public meeting next week, an event he claims will attract interest from worried tenants across Fife.
"A lot of people are talking it," he said. "We've got people coming from Dunfermline, Cupar all over the place, I've been looking at the statistics and it's suggesting that 66% of disabled people are going to be affected by this.
"We are writing a letter to Fife Council asking them to suspend the rent increases they are working out at about £14 a month. It's a lot of money when you add it up."
Not strictly speaking a tax, the UK Government intends to cut housing benefit to families deemed to have too much living space in the form of surplus bedrooms.
The change will only affect working age local authority tenants and those who rent from housing associations, with more than 600,000 households across Britain likely to be affected.
The measure has already met strong political opposition, with Kirkcaldy MSP David Torrance being one of those who has signed a letter calling on the Chancellor to rethink implementing the cuts.
He believes some people may even be forced from their homes, such will be the economic strain placed on some family finances.
"The 'bedroom tax' will undoubtedly have a damaging effect on many vulnerable and disabled people in Scotland," said Mr Torrance.
"A large number will face having to leave their homes as a direct result of these harsh welfare reforms.
"For those who are already struggling to make ends meet, a reduction in housing benefit or the prospect of losing your home could prove a devastating blow.
"As I have stated previously, the 'bedroom tax' will impact upon 39% of those currently receiving housing benefit in Fife, who will be classified as 'under occupying'. This is bound to affect many families in my constituency, causing them unnecessary distress and worry."
Fife Housing Association has also joined the condemnation of the imminent cut, claiming a lack of smaller properties will affect many households.
Stating that more one and two-bedroom homes were required, chairwoman Lorna Paterson said: "We have found ourselves utterly shocked by the terms of the 'bedroom tax' and also by the limited exemptions, particularly when most tenants have no alternative but to wait until a smaller house is offered to them.
"We cannot see how this is in any way fair on the most vulnerable and poorest residents in Fife who are directly and indirectly affected by the 'bedroom tax'.
"One of the largest problems we envisage is the shortage of smaller properties available in Fife particularly in our more rural communities.
"There are many households in social rented housing in Fife willing to downsize from two or three bedroom properties, but there is a definite lack of one and two bedroom properties available."
The public meeting being organised by Mr Nelson will take place at the CISWO, North Street, Glenrothes, at 6.30pm on Wednesday March 27.