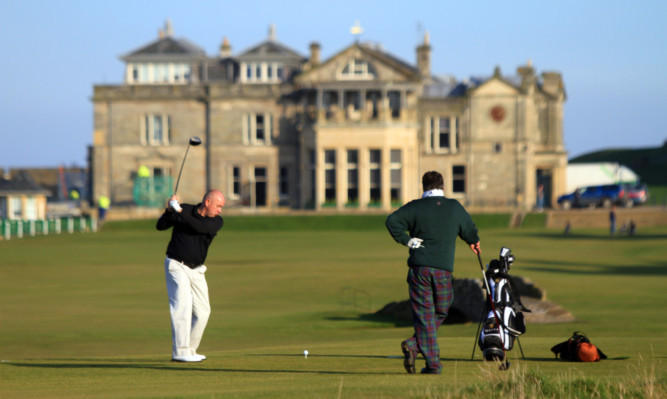 Golf course bosses have applied to register the name of "St Andrews" as a trademark to stop outsiders cashing in on its reputation.
The St Andrews Links Trust have sent an application to the European Union to have the town's name protected as a brand in a move to stop other companies over the world branding their products with the St Andrews name.
If the application is successful, the trust would be the only organisation able to provide specific goods or services using the "St Andrews" trademark, although other businesses could ask for permission.
The application covers 11 different classifications of goods and services, most of which are directly related to golf.
Books and magazines relating to golf are specified on the application, as are golf balls, clubs and bags.
A spokesman for St Andrews Links Trust said: "The links trust courses are the oldest and most renowned in the world and often referred to simply as 'St Andrews'. The trustees view it as their duty to reduce the danger of misrepresentation and to nurture what the name symbolises around the world".
He explained that to reduce confusion over the name, an application had been lodged with the Trademarks and Design Registration Office of the European Union.
He said: "Nobody in the town is under any threat for their use of the St Andrews name. We recognise many local businesses identify themselves as being based in St Andrews to improve their business and we take great pride in supporting a collective effort to enhance the reputation of this magical destination.
"However, a number of individuals and businesses, both in Scotland and beyond, were using our intellectual property without permission and in order to protect our commercial interests, we began this programme of trademark and brand protection.
"St Andrews Links Trust believes it is not appropriate for these parties to use the renown of St Andrews for their financial gain by wrongfully suggesting they have a relationship with St Andrews Links. If the reputation and goodwill which exists across the world towards St Andrews Links is to be properly protected, for the benefit of all, it is important for St Andrews Links Trust to take these protective measures."
A spokesman for St Andrews Partnership, which includes public agencies, businesses, voluntary and civic bodies and community representatives, said: "We are aware of the concerns being expressed by a growing number of local businesses.
"We will be meeting senior management at the Links Trust in the coming days to ascertain all of the facts. We then intend to have a fully-informed discussion about the matter at our own board meeting on March 21".