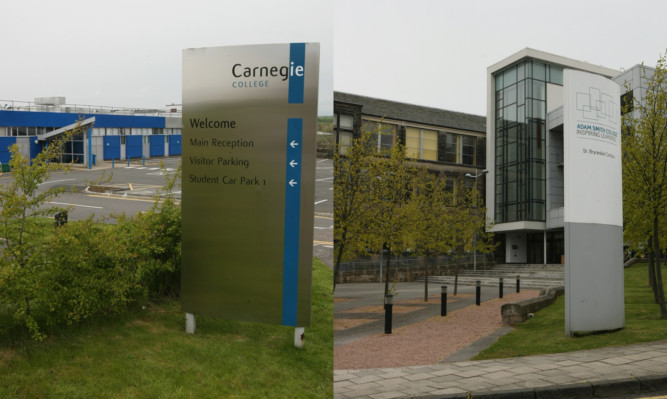 The new college to be formed between the merger of Carnegie and Adam Smith colleges will be known as Fife College, it has emerged.
The partnership board, overseeing the merger of the two colleges, gave their formal approval of the merger proposal and their commitment to form a new college in Fife at a meeting on Friday.
It was also confirmed that, following a consultation process involving students, staff, stakeholders and employers, the board agreed to recommend that, from the planned Vesting Day on August 1, the new organisation should be known as Fife College, which was the name supported by the majority of respondents. The new college principal will be Hugh Logan, principal of Motherwell College.
Mr Logan was previously principal of North Highland College and has held a variety of posts in colleges as well as working in industry and secondary education.
Tony Jakimciw, regional lead for college planning in Fife, said: "This is a landmark day.
"The decision to move forward and to name the new organisation Fife College reflects the commitment of the staff and board to build on existing strengths to create something new and exceptional for Fife, and the people of Fife.
"I'm delighted that Hugh Logan will be joining us as principal. Hugh has been highly successful in his career to date and has a wealth of experience which he will bring to this exciting new venture."
Mr Logan said: "I am thrilled to have the opportunity to work in one of the key regions in Scottish further education.
"The chance to work with a range of partners, staff and students to create a new college that will respond to the challenges and opportunities for the Kingdom of Fife is one that is too good to miss."
The proposal and business case has been considered by the Scottish Funding Council, which has decided to recommend the merger proposal to the Scottish Government and this will now be considered by Education Secretary Michael Russell.