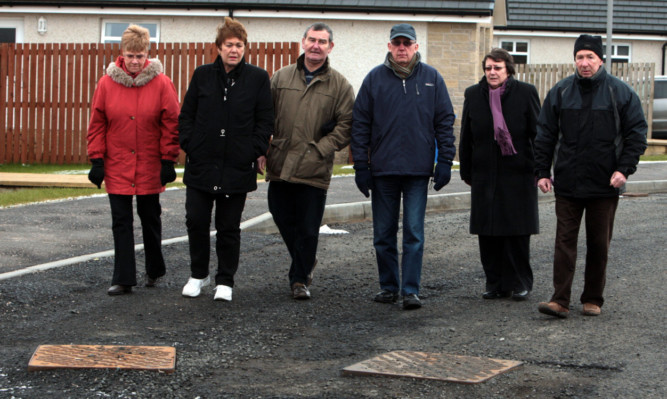 When residents moved in to their houses at New Farm Vale in Lochgelly last year, the catchphrase of Fife house builder Lomond Homes was "Living the Dream".
Unfortunately, since the collapse of the company in January, residents now feel they are "Living the Nightmare", with unfinished pavements, potholed roads and sewage running down streets.
Lomond Homes entered administration in January, owing Fife Council nearly £500,000. The money was outstanding in relation to two legally binding Section 75 planning agreements for developments in Blairhall and Lochgelly.
Now, residents of New Farm Vale with the support of residents experiencing similar problems in Blairhall and Kennoway have established a new residents' group, which is pushing local politicians for answers.
Residents' group spokesman Ian Brown told The Courier: "We have been left with roads and pathways unfinished. Cars are being damaged, and until the roads have been adopted by the council there are problems with gritting and snow clearing.
"In addition there are potholes and protruding drain covers in the roads, making it an obstacle driving course.
"We were told that Lomond had paid the Purvis Group to finish the roads, but Purvis left the site on January 14. Purvis now claim they have done all the work they were paid for and would need more money to return to finish the work.
"The administrators (PWC) say they have no money as the only assets that Lomond have are one unsold house and the common ground shrub beds and grassed areas in the estate."
Mr Brown said residents are unable to access any help for snagging issues because the administrators are now the only ones who can authorise work and they have no money.
He said raw sewage is running down a pathway between Muir Road and Muir Place, with sanitary towels and condoms being spewed out on to the path.
He added: "This is supposed to be a nature path into the adjacent wood. Both Sepa (Scottish Environment Protection Agency) and Scottish Water have been contacted on many occasions about this, but so far no lasting solution has been provided.
"The Lochgelly main sewer runs through the estate, so we are the unfortunate recipient of sewage for the whole area. They are now talking about setting up monitoring equipment so they can react when the problem recurs.
"MP Gordon Brown has now been contacted by the resident to seek his help. We now intend to lobby all our MSPs."
Mr Brown said residents are furious Lomond Homes can go into administration while the larger Lomond Group can still operate a house building company under a different name.
He added: "Lomond are now ready to start building in Berwick on Tweed under a different name. They also have outline planning permission to build houses in Lochgelly, a stone's throw away from New Farm Vale.
"The Lomond Group website shows that Lomond are still very much alive and kicking with a restaurant, caf and hotel in Dundee.
"Legislation is needed at Scottish Government level to stop this behaviour of directors being able to move on after breaking the section 75 agreements they signed up to.
"I have written to the owners of the Lomond Group Phillip and Grant Ritchie and asked them to live up to their mission statement by supporting residents and the community as they promise.
"I have asked them directly to clarify the situation regarding the funds paid to the Purvis Group to finish the roads. To date I have not received a reply. "
No one from the Lomond Group responded to The Courier's request for an interview.