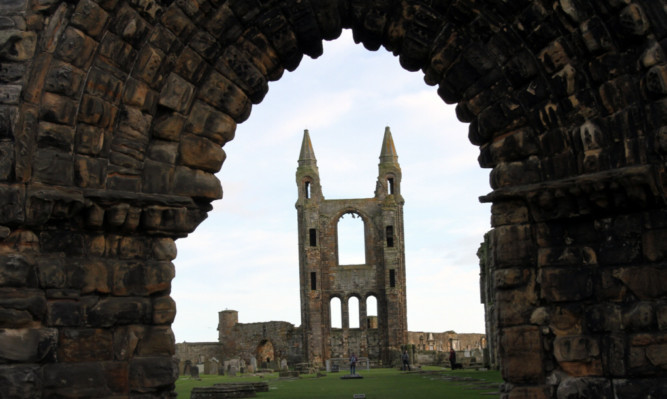 A former St Andrews University student is fighting extradition to Scotland for allegedly trying to murder a fellow American student by spiking his bottle of red wine with the ingredient used in antifreeze.
Alexander Hilton (21), from Princeton, Massachusetts, returned to the United States around March 18, 2011, less than two weeks after the alleged poisoning in St Andrews and just days after he was questioned by investigators in Scotland.
He has been staying at his family's home in Princeton and was arrested last week under an extradition treaty the United States has with the UK.
On Thursday in a Boston federal court, Hilton asked to be released on bail pending an extradition hearing, scheduled for March 7.
A US magistrate judge is considering the request.
At the time of the alleged poisoning, Hilton was studying economics and computing at St Andrews University.
Authorities told the court Hilton gave a fellow student Robert Forbes a bottle of red wine and encouraged him to drink it in drinking games in a dormitory room before the university's annual New Hall Ball at the St Andrews Fairmont Hotel, telling him it was a gift.
Authorities allege that Hilton had spiked it with methanol, also known as methyl alcohol or wood alcohol, a sweet-smelling, colourless yet deadly, flammable liquid used in antifreeze.
The student, 19 at the time, suffered severe nausea and headaches for days and started to lose his vision before going to the hospital.
Mr Forbes, who was studying international relations as part of a four-year degree course, subsequently returned to his home in the US where he underwent treatment at a specialist eye hospital.
It is understood that he has since recovered. He would have died if he had not sought medical help, authorities said, and he temporarily lost his sight.
"It's an attempted murder case… a serious case, and we can't lose sight of that," said Assistant US Attorney David J D'Addio, arguing on Thursday against Hilton's release on bail.
"The evidence before us is Mr Hilton deliberately poisoned a student."
A family member of the victim, who is from Virginia, said the family did not want to comment because they did not want to interfere with the judicial process, but they support the prosecution of Hilton.
Authorities said they scanned Hilton's computer after the poisoning and found that he had conducted searches for information about combining alcohol and methanol. He also had a funnel in his room, which he said was for drinking games.
The authorities did not disclose a motive for the alleged poisoning, but witnesses told investigators that Hilton had been acting strangely before and after the incident. He also told witnesses that he had past behavioural problems with students, according to a police report.
Hilton's lawyer Norman S Zalkind said his client has denied any wrongdoing and that he will fight extradition to Scotland, arguing that the US treaty with the UK should be voided because it fails to guarantee a US citizen the rights that are preserved under the American judicial system.
He also pleaded with US Magistrate Judge Jennifer Boal to release Hilton on bail pending the extradition hearing, saying he has a severe mental illness that he has suffered since childhood and his condition has worsened since his arrest.
A Crown Office spokesman told The Courier last night: "The procurator fiscal at Cupar has received a report concerning a 20-year-old man in connection with an alleged incident in St Andrews on March 5 2011. A warrant has now been issued for his arrest and, as proceedings are live and ongoing, it would not be appropriate to comment further at this stage."
St Andrews University said it would not be commenting.