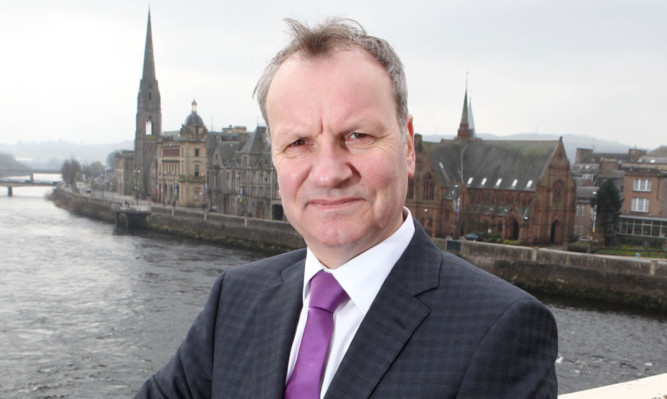 A radical election campaign group with Lib Dem and Labour members is controversially urging Perthshire voters to back the Tories.
United Against Separation is seeking to oust SNP candidate Pete Wishart from his Perth and North Perthshire seat by persuading the electorate to vote tactically.
The move has angered many regular cross-party members, while Mr Wishart branded the effort a "bizarre and poorly thought out tactic".
A housing estate in Perth has been targeted in a bid to lean on voters to bring the Tories to power at the general election.
United Against Separation arrived in numbers recently at North Muirton and asked householders to vote Conservative, in the belief that this had long been a traditional Labour stronghold and its voters would want to hold on to Unionist values.
The group are an amalgamation of people from different political backgrounds who liaise through social media site Facebook.
Andrew Skinner of United Against Separationsaid: "We are a 'pro-UK country' party and want to put up the strongest UK candidate in each constituency.
"We know we have an uphill task but we handed out our own leaflets to people in North Muirton and were really shocked at the positive reaction we got. The leaflets explain tactical voting and what can happen if people don't vote SNP."
"We have Labour, Liberal and Conservative supporters in our group but also some who don't follow any party.
"We realised we had to do something after the independence referendum vote and this is why we chose Perth and North Perthshire.
"It is a tall order to overturn Pete Wishart's seat but we chatted with him when we came to Perth and that is how it should be. He is a lovely man.
"It might not change the outcome of the election but it shows how tactical voting can make a difference."
United Against Separationmembers were also out in Dundee East and West yesterday continuing their campaign.
Mr Wishart said: "I think that ordinary folk in Perth who might have traditionally supported Labour in the past will be absolutely appalled to learn that supposed Labour Party supporters from elsewhere are coming into North Muirton and urging them to back the Tories.
"It is a bizarre and poorly thought out tactic which, ultimately, will be unsuccessful."
Scott Nicholson, who is standing for Labour, was scathing of the United Against Separationapproach.
He said: "Although this person (Mr Skinner) has claimed to be a Labour supporter, their actions have shown that is not the case.
"I would like everyone to remember that I am a trade unionist who has spent the majority of my career working in the NHS and the Conservative Party hates me and everything I stand for."
Alexander Stewart, the Conservative candidate for Perth and North Perthshire, said he did not see anything wrong with the campaign.
"I met the group in Perth city centre and they were handing out their own literature," he said. "The group are a number of Unionist supporters who have come together to galvanise opinion against the SNP a bit of a splinter group.
"There is nothing illegal about it they are perfectly entitled to do this."
Lib Dem candidate Peter Barrett said: "I totally reject the simplistic and misguided message of United Against Separation.
"The referendum is over and the SNP lost, sometimes even those who won, including UAS, need to remember this.
"This isn't referendum Mark 2."
For more on this story, see Tuesday's Courier.