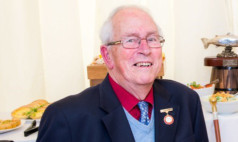 Former Perth Racecourse chairman David Whitaker, regarded as one of the most influential figures in Scottish horseracing, has died at the age of 78.
He took the reigns at the venue for about 25 years and, together with manager Sam Morshead, steered the company through an era of intense development and progress.
Under his guidance, the award- winning racecourse was transformed into one of the most popular tracks in the UK with owners, jockeys and race-goers. It has undergone major developments, including the Nelson Stand and a new £1.8 million hotel complex due to open later this year.
Retired chartered accountant Mr Whitaker, of Glenfarg, and his wife Fiona, were proud owners of 1978 Grand National winner Lucius.
Their daughter Lucy Normile continues the family tradition, training horses at the Duncrievie stables.
Sam Morshead, who retired as general manager at the turn of the year, said: "Without shadow of a doubt Perth Racecourse would not be where it is today without David's strong and wise leadership. Scottish racing owes David a huge debt of gratitude."
"His legacy is apparent when you look around Perth Racecourse as it is today. Without his prompting, support and encouragement it probably wouldn't be here.
"David was the most amazing man. He was so brave. He fought a long illness and was confined to a wheelchair for the last 15 years of his life.
"But not once did I hear him complain despite the difficult cards he had been dealt. Hazel Peplinksi, chief executive at Perth Racecourse, said: "Everyone at Perth Racecourse is deeply saddened with the news of David's passing.
"David was a popular figure here and indeed throughout the horseracing industry, where he was held in the highest regard."
"David made a major contribution not just to this racecourse, but to the sport and indeed the wider community of Perth. He will be missed by many."
Mr Whitaker began his career as a chartered accountant with McClelland Moores of Glasgow, who later joined with Arthur Young of Dundee and Forfar. He was a senior partner with Ernst and Young based in Edinburgh.
He served for 10 years as chairman of the Wemyss Development Company and as chairman of Securities Trust of Scotland plc and as a director of the Ivory and Sime Isis Trust from 1993-2007.
The racing world will have an opportunity to reflect on Mr Whitaker's life at A service of thanksgiving is being held on Tuesday, March 22, at 2pm in St John's Episcopal Church, Perth.