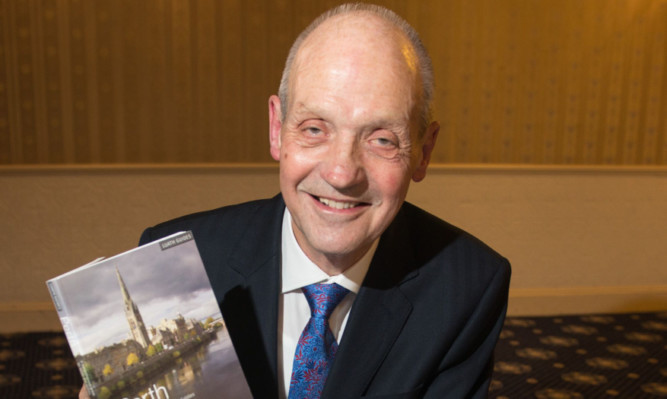 A leading light in the successful campaign to have Perth's city status restored, former provost Dr John Hulbert, has written a book extolling the Fair City's many virtues.
Perth: A Comprehensive Guide for Locals and Visitors takes the reader through the history and development of what was once Scotland's capital.
In his foreword, Mark Webster, a former chairman of the Gannochy Trust, describes it as "a way to discover many facets of the city's fascinating history, as well as a wealth of information about life in Perth today".
Suitable for lifelong Perth dwellers and first-time visitors, Dr Hulbert's book leads the reader through Perth, acting as an invisible tour guide and expanding on the historic detail on the city's streets.
At the launch in the city's Royal George Hotel, the author explained how the idea for the book had been formulated.
"I was privileged to be provost during a critical period of Perth's history the 800th anniversary and the bid to reclaim city status," he told the guests.
"Many organisations and individuals were involved in these two events. Without exception they were enthusiastic, and that gave me unrivalled opportunities to meet people, see places, and attend events in and around Perth.
"These opportunities enabled me to develop my interest in Perth, an interest which had been kindled when I was first elected to the council.
"It was at that time, back in the 1990s, that I first became aware that there was no modern guide book that could satisfy even the most basic inquiry about the town whose interests I was expected to serve."
He said that, while there were many good historical books about old Perth, none dealt with the whole of the city.
He went on: "Inquisitive individuals want to understand, in general, the whys and whats of their subject. Why is Perth here? What significant events in its history impinge on its present situation?
"What are Perth's important streets and buildings and how did they develop? What about its art and architecture? How did its distinctive traditions and institutions arise?
"And, above all, who were its famous sons and daughters?"
Perth: A Comprehensive Guide for Locals and Visitors is published by Luath Press Ltd priced £12.99 ISBN 978-1-910021-43-9.