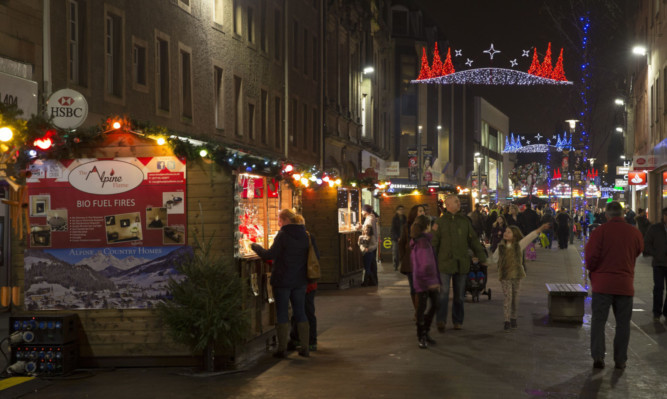 Concerns have been raised over plans to dismantle Perth's controversial Christmas market overnight.
Work to remove the cabins from the High Street and St John's Place will begin at 6pm on Monday and residents in the area have been warned that it will continue until 1am on Tuesday.
Contractors will then return at 6am and spend two hours removing everything from the site.
Despite the market launching at the end of November, letters from the council to residents were not sent out until December 11 and some residents claim not to have received any notification at all.
City centre councillors said they were "disgusted" at the lack of consultation on the dismantling of the market.
Councillor Alexander Stewart said: "I made reference to the fiasco when the Christmas market was set up due to a number of issues that hadn't been properly addressed by this council, and the dismantling seems to be creating as big a fiasco as its construction.
"I would have hoped that lessons could have been learned, but obviously not.
"Let's hope in the future that dialogue, discussion and consultation are paramount."
Councillor Heather Stewart added that the lack of communication was damaging the relationship between the local authority and residents.
She said: "Once again I am disgusted at the lack of consultation regarding this market.
"We need the city centre to be a vibrant and diverse place to live and work but this does nothing to help council and resident relationships and I, as an elected member, would have appreciated sight of the letter prior to it being sent out."
No one was available to comment at Perth and Kinross Council but the letter to residents reads: "The Christmas market that is currently located on the High Street and St John's Place will be dismantled and transported out on December 22 2014.
"To ensure that this is done with the minimum disruption and as safely as possible, work will not start on this until 6pm. The planned works take place between 6pm and 1am.
"Any remaining work will commence again at 6am the following day, with everything being off site by 8am on December 23, if the contractor's plans go to schedule. The generators will be removed from site on December 23.
"We have met with the market operator to discuss a plan for this and to look at ways that noise and disruption for residents can be minimised."
Plans for the Christmas market had to be hastily revised after the original lay-out provoked the fury of business owners.
The market launched a day later than planned after the council received complaints that the wooden cabins were blocking access to shops on the High Street, forcing them to reposition the stalls.
Concerns were also raised that emergency services and disabled drivers would have difficulty getting along the street.