 A top Perthshire chef has attacked hygiene assessors for making it "almost impossible" for restaurants to pass inspections.
Andrew Fairlie, who runs Scotland's only two Michelin star restaurant, has called on the Food Standards Authority (FSA) to drastically alter its guidelines.
He said: "The level of importance given to restaurant administration is bizarre. It has been a bit of a nightmare for most restaurants.
"We had a five-hour inspection. I can see why they're doing it but the time they spent assessing our admin was unbelievable.
"We've now had to employ a consultant to meet the laborious requirements set out by the inspectorate."
The restaurant, housed at the Gleneagles Hotel, last year failed to achieve a pass grade from the watchdog because one of the staff washed his hands the "wrong" way.
"It borders on the surreal," Fairlie added.
"Every member of staff lined up and washed their hands for the required one minute and 30 seconds but if someone puts soap on the hands before the water then it's an immediate fail, which is what happened in my kitchen."
Last month Fairlie's restaurant was awarded an A-plus grade after a further inspection by the FSA.
His views were echoed by Edinburgh-based chef Tom Kitchin, who said the FSA restrictions were "unbelievable".
Kitchin, who holds one Michelin star, said: "I've had some inspections which have been incredibly difficult. Sometimes the inspectors turn up in the middle of lunch and expect you to drop everything.
"I find it frustrating because chefs like myself and Andrew Fairlie have been trained by real mentors of the industry.
"We expect cleanliness, we expect our chefs to take responsibility. Yes, of course we're here to live by the guidelines, but I think there's an attitude of the 'sheriff' to some of the inspectors."
A spokeswoman for the FSA said: "The Food Standards Agency in Scotland maintains active engagement with local authorities and with the Scottish food industry and is unaware of this issue."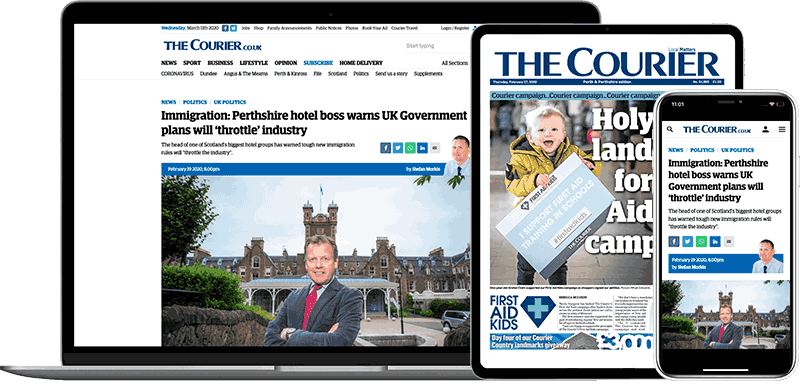 Help support quality local journalism … become a digital subscriber to The Courier
For as little as £5.99 a month you can access all of our content, including Premium articles.
Subscribe