 A man who phoned a nurse and told her he had stabbed someone appeared at Perth Sheriff Court.
Viktor von Werra then told a police officer, who rushed to the scene, that he had been using the "machete" he was carrying to do some gardening.
Von Werra, 62, denied carrying a knife on Nurses Lane, Comrie, on September 23 2013, telling the court he was under the impression that the lane was the joint responsibility of the residents and that his landlord had told him to use the nine-inch blade to cut back vegetation.
The court heard from staff nurse Simone Bryson, who worked at the Tayside substance misuse service, which Von Werra was attending to receive a methadone prescription.
She said she had had a phone conversation with him on that day.
"He said he had to leave town quickly and could I get a prescription for him," she said. "He said he had stabbed somebody."
She said she ended the call and contacted the police.
Constable Scott Fergusson was asked to attend Von Werra's rented cottage on Drummond Street and found him holding the blade.
He said: "He (Von Werra) was standing still and then he made a move towards me. He wasn't speaking to me although I was trying to get some conversation with him.
"He then bent down at the side of the property and started hacking at weeds. He said something to the effect of: 'Look, I'm gardening'."
He said Von Werra briefly went into the house but, when PC Fergusson attempted to ascertain if there was anybody injured in the cottage, he was prevented from entering.
"I explained that we had been called and I needed to search the house," he said.
"He stated I wouldn't be getting in. My thoughts were that there was some validity to the call."
He then arrested Von Werra and found the knife stuffed in a kitchen drawer.
Giving evidence, Von Werra, who has since moved to Glasgow, said his comments to Ms Bryson were an attempt at humour and that he had in fact cut himself with a knife.
He said she had hung up before he could explain but that he left two messages apologising for the joke.
He claimed that his landlord had instructed him to use the knife to tidy up the lane, which ran adjacent to the cottage, and that he understood it to be a lane shared by the residents
Sheriff Chris Shead refused to believe Von Werra's version of events and found him guilty. Sentence was deferred for reports.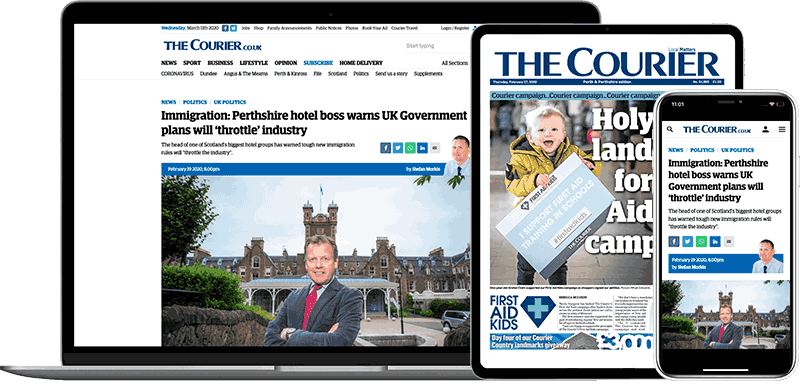 Help support quality local journalism … become a digital subscriber to The Courier
For as little as £5.99 a month you can access all of our content, including Premium articles.
Subscribe