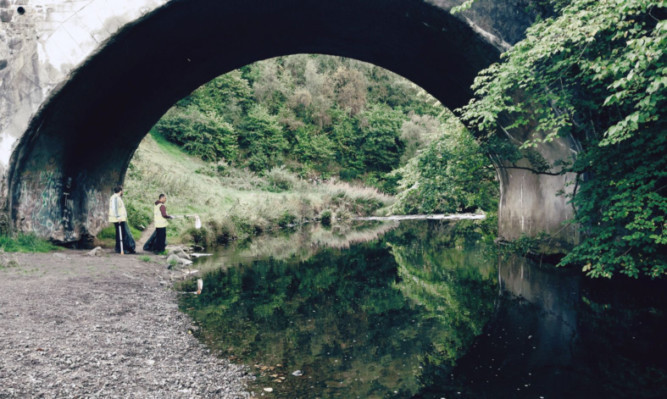 Offenders doing unpaid work as part of their sentences have made a real difference to a blighted Kinross-shire beauty spot.
Fresh from working at the Ryder Cup at Gleneagles, they turned their attention to cleaning up and addressing the damage that has been done to Dunning Glen.
Long a popular destination for outings, the area has become a haunt for youths from the west coast and central Scotland who visit to party and camp at weekends.
While such activity is not illegal, tonnes of litter have been removed from the site, waterways have been fouled with rubbish and the woods have been despoiled by campfires, broken glass, and discarded camping gear.
Locals have worked to protect the area by staging their own clean-ups, even paying specialist contractors, and Police Scotland has increased patrols across the area.
The latest clean-up, however, was thanks to members of the Perth and Kinross community payback team visit after an appeal to Community Sergeant Sandra Williams.
They removed a significant amount of rubbish from the site, leaving it renewed for future, more responsible visitors.
Ms Williams said: "Police Scotland are aware of the issues caused by wild camping in Dunning Glen and have been working closely with the local residents, landowners and Fossoway Community Council to reduce the impact that it is having on the countryside.
"Police officers carry out regular patrols of the area and provide advice to those they find camping.
"There have been fewer calls received this year but, unfortunately, there has still been a large amount of litter left behind.
"We contacted the Perth and Kinross community payback team to help with the clear-up and it did a really good job."
Safer Communities team leader Roddy Ross said: "The unpaid work team have had a busy year, having been involved in everything from the development of a roundabout at Gleneagles Station for the Ryder Cup, to the massive clear up of chewing gum from the pavements in Perth City Centre. There have also been many smaller jobs that have really helped individuals and communities.
"This work in Dunning Glen is exactly the kind of thing we are looking for as it allows the offenders to make a visible "pay back" to communities and has a really significant impact on the countryside and how people enjoy it.
"Anyone who has ideas for this kind of project, or any project that improves communities or helps improve someone's quality of life, should give us a call on 01738 476173."