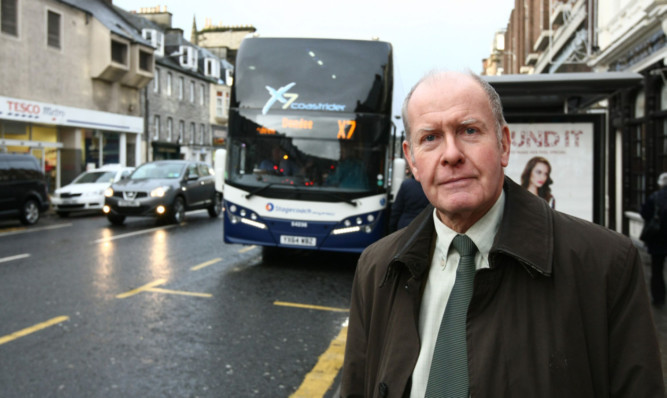 A Perth councillor has been "inundated" with complaints about a new hospital bus link service.
Willie Wilson said he has travelled on the X7 service from Perth Royal Infirmary to Dundee and has experienced the difficulties first-hand.
While he welcomes the increased frequency of the buses, Mr Wilson claims there are accessibility problems on the service, which goes from Perth to Aberdeen via Dundee.
He said: "The new coaches have no dedicated, built-in access ramp and the amount of seating on the lower deck is very limited in fact, only two seats are provided.
"I have been inundated with complaints from residents who found the coaches very difficult to access in particular, people with visual impairment, those recovering from orthopaedic injuries and perhaps using crutches, those with heart conditions, or simply people who find it difficult negotiating the stairs on a moving bus."
He went on: "The coaches are very luxurious. However, that's of little consequence to those that find the access arrangements almost impossible."
Mr Wilson believes the lack of a ramp is "totally unacceptable".
"As things stand at the moment, the driver has to go to the boot and get out a ramp to allow for wheelchair access," he said.
After raising the matters with Stagecoach and Perth and Kinross Council's public transport unit, Mr Wilson said he is hoping for a "rapid" rethink.
"It is a huge disappointment that buses costing nearly £750,000 each appear to have been badly designed for the hospital link route. As a quick, interim measure, I have asked Stagecoach to designate the two seats on the lower deck for people with mobility difficulties," he said.
A spokesperson for Stagecoach East Scotland said "These 62-seat vehicles offer a higher number of seats to cope with the demand for the new journeys available, and the demand on the previous X7 route was often overwhelming.
"In order to provide the capacity required, these coaches have an additional step compared to other coaches we operate in the region. These negate the need for a complex wheelchair lift as on other coach models and simply require a ramp for access. The feedback received so far has been passed on to the manufacturers."
A council spokesperson added: "This new service is part-funded by the council and NHS Tayside.
"The service is continually being monitored to ensure we are able to offer the best possible service to the public."