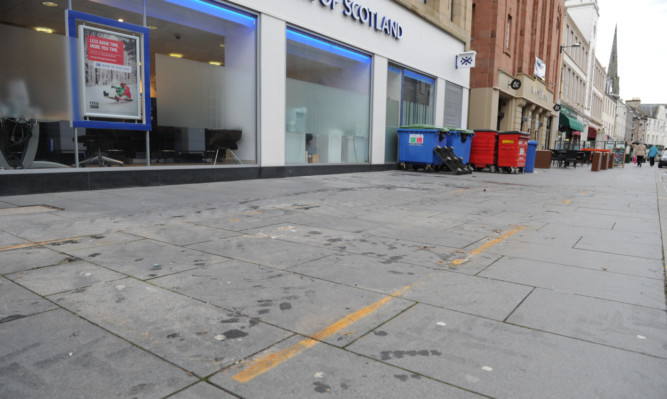 The owner of Perth's Christmas Market has vowed never to return to the city and threatened to sue the council after branding the organising of the festive event a "fiasco".
Paul Leonard, of Cottage Industries Association, said the market had "crucified" him financially.
It seems to be the final nail in the coffin for the market, which had a number of problems.
It launched a day late after complaints were raised about access to shops due to the positioning of the wooden chalets, then a trader selling lock-fast knives was slammed and finally complaints were made about the market being dismantled overnight.
Mr Leonard told The Courier that after his company tendered for the market and was awarded it in February, he had to travel to Perth at least six times to "sort things out".
"On my last visit here, I was told the marquee would go from the High Street to St John Street, with the idea being to funnel people around," he said.
"We arrived, put the marquee up but had to take it down.
"Consequently, a minimum of 20 traders faced no work for Christmas.
"One of them hired a container but ended up with nothing and he had to go home to London so that was the first fiasco, which was pretty major."
He added: "We were informed that the High Street was actually used for artic lorries so on the first Tuesday morning we blocked it mayhem.
"Also, we didn't know it was residential so the residents complained rightly so.
"And the Perth city centre manager came and actually pulled the plug on the whole thing on Tuesday morning. The whole market was going total disaster.
"Then she reversed this decision, came down with some chalk and some chalets were removed to St John's Place, where nobody goes.
"These traders have died a death. For me personally as a business, this has crucified me I've lost thousands of pounds.
"It's also crucified at least four other traders. This is the council playing God with other people's lives. Everything is down to there being no consultation."
Mr Leonard claimed he asked the council to provide some compensation towards his loss of income but said he was informed there is "no case to answer".
He added: "I'll go home, speak to a solicitor and intend to sue Perth and Kinross Council and turn it in to an action where all the other traders can sue as well.
"If it does happen, I would suggest we are talking serious money. I definitely won't be back here."
He also slammed the council's handling of the power supplied to the market traders, claiming a temporary setup had cost the local authority around £10,000.
"I was told the council were going to supply the electric," he added.
"However, they never checked this until a week before we arrived and found it didn't work.
"So the council hired these generators and put the wiring in that has become a major trip hazard.
"There's been at least one lady who suffered a broken hip through it so there is the potential for a lot of people suing.
"I gambled on the market but it should never been down the High Street that was incompetent. However, we don't have local knowledge."
A Perth and Kinross Council spokesman said: "Mr Leonard approached the council about coming to Perth and was invited to submit applications along with a number of other operators.
"The location of the market was discussed in detail with applicants and Mr Leonard carried out a number of pre-event site visits with council officers.
"Council officers kept local businesses informed about the market as part of the Winter Festival programme and engaged with the market operator and local businesses to agree a revised layout for the market when concerns were raised about the location of the marquee.
"Mr Leonard was part of these discussions and was offered a number of alternative locations for the marquee. We were pleased to be able to agree a solution with him which satisfied local businesses, maintained safe access to the High Street for emergency and delivery vehicles and allowed the market to operate as planned.
"During a pre-event check it was clear that there were problems with the electricity boxes on the High Street which were to supply power to the market chalets. Mr Leonard was informed of this before the start of the event, and advised that the council would not pass on the additional costs of generators to him."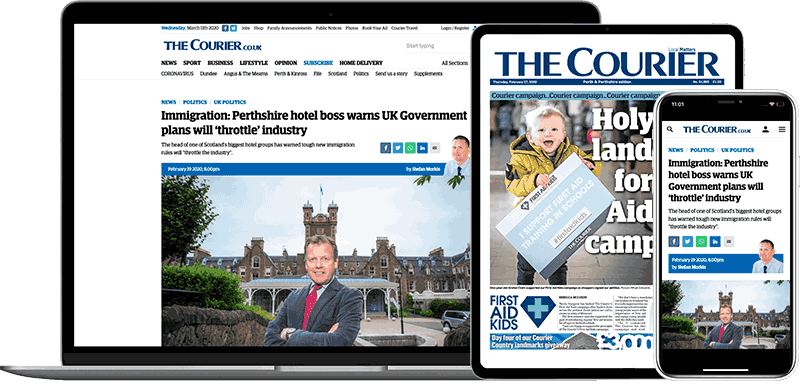 Help support quality local journalism … become a digital subscriber to The Courier
For as little as £5.99 a month you can access all of our content, including Premium articles.
Subscribe