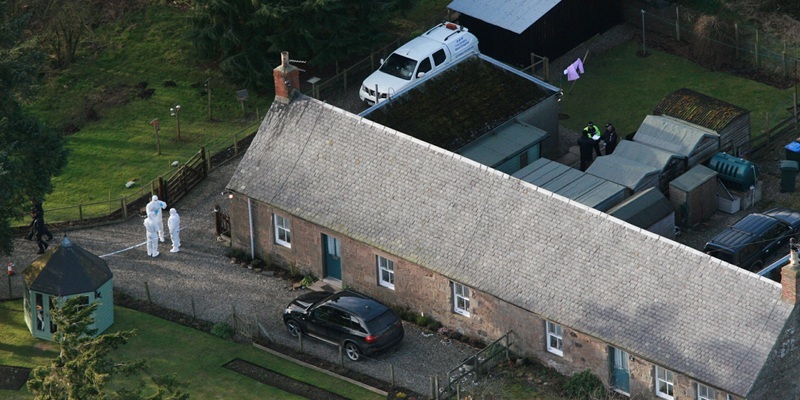 The man accused of murdering tragic Perthshire pensioner Jenny Methven claimed her son was responsible for her death despite his defence counsel admitting William Kean's DNA "signature" was all over the crime scene.
The court was also shown a grisly video of the murder scene on the first day of Kean's trial at the High Court in Glasgow.
Kean (46) denies murdering 80-year-old Mrs Methven at her home at Kildenny Farm Cottage in Forteviot in Perthshire on February 20 and has lodged a special defence of incrimination against Mrs Methven's son David Methven, or "another or others unknown to whom David Methven was connected".
Kean, who appeared at the High Court in Glasgow wearing a dark blue suit yesterday, denies murdering Mrs Methven by repeatedly striking her head and body with a blunt instrument.
He also denies cutting his own fingertips and palms to prevent police obtaining usable print samples to avoid detection, arrest and prosecution.
Kean has also been charged with stealing £15,000 from Mrs Methven's Perthshire cottage on September 14 last year and of attempting to defeat the ends of justice between February 20 and March 28 this year by allegedly pouring bleach or a similar liquid on bloodstained trousers and cutting a pocket from them and concealing the trousers and pocket material in the eaves of a garage in Blairgowrie.
He also denies these charges. He pled not guilty before a jury of nine women and six men on the first day of his trial yesterday.
A joint minute of facts agreed by the defence and prosecution was read to the jury before the first witness was called.
It stated that on February 20 Kean had touched the lower right arm of Mrs Methven.
It has also been agreed that Kean was the owner of a pair of blue corduroy trousers that, when examined, were found to have quantity of Mrs Methven's blood on them.
The minute also stated that a telephone taken from the kitchen of Mrs Methven's cottage had a bloody fingerprint of Kean's left forefinger on it.
Additionally, it has been agreed that a glass found in a plastic tub next to the sink in the kitchen had been handled by Mr Kean on February 20, that he was the sole owner of a mobile phone whose number was read to the court and that on February 20 he has the sole use of a silver Peugeot 205 car whose registration number was read out to the court.
The court later heard that Mrs Methven may have been struck repeatedly on the head while sitting on a chair in her kitchen before being shown a video of Mrs Methven's body lying on the floor of her blood-splattered kitchen.
Near her body were two towels and on the back of a chair a fluorescent vest, all of which were saturated with blood.
Scottish Police Service Authority forensic scientist Yvonne McLaren told prosecutor Alex Prentice QC that the splatter patterns and smear of blood found on the wall suggested Mrs Methven had been struck while sitting on a chair in her kitchen.
"The sizes, shapes and direction of the stains would indicate an area close to the wall and by the side – that's where the source of blood would have come from the create that splatter," said the witness.
"The blood and the impact of the smearing indicating a moving contact with wet blood."
The video showed Mrs Methven wearing a jumper and trousers but only one shoe. Miss McLaren said spots of blood on her sock had fallen from above, indicating she would have been in a sitting position when they fell.
The advocate depute asked Miss McLaren if the cut in the pocket of Kean's trousers referred to in the joint minute could have been made to conceal the handle of a blunt object like a hammer.
Miss McLaren agreed that this was a possible reason for making the cut. She also said bleach had been poured on the trousers and it was impossible to say from which side Mrs Methven's blood had got onto them.
She agreed that it was possible the blood had come from an object covered in wet blood that had been put into the pocket.
The witness also said the blood splatter may have been minimised because a towel was wrapped round the 80-year-old's head when she was being attacked.
Under cross-examination from defence counsel Brian McConnachie QC, Miss McLaren admitted that it was possible for the perpetrator of a crime to limit the DNA they may leave behind or other evidence such as fingerprints by wearing gloves or taking other precautionary measures.
He then asked: "If William Kean is the perpetrator he has left behind his fingerprint on a telephone, his DNA on a glass and his DNA on Mrs Methven's arm?" Miss McLaren replied: "Yes."
He continued: "One of the things that has been suggested to you is that the removal of part of the trouser pocket is to secrete a hammer," and she replied: "Yes. It is a possibility."
She also agreed when Mr McConnachie stated: "The person who has gone to that trouble then effectively left their signature in the cottage."
Mr McConnachie added: "The premeditated plan seems to have run out at the point of wearing gloves," to which Miss McLaren again agreed.
The defence QC said that pathologists said that Mrs Methven was struck 11 times and asked Miss McLaren if this would mean the perpetrator was covered with blood.
She said experiments had shown that there is often less blood splatter than would be expected.
Miss McLaren also told Mr McConnachie said that three blunt instruments – a miniature baseball bat, what she described as a "hockey stick handle" and a wooden pole, were found in two cars belonging to David Methven. However, she said there was no evidence to suggest these had any connection to Mrs Methven's death.
Under re-examination Miss McLaren said that blood will only splatter if a blow is struck in an area where a previous strike had already broken the skin and caused bleeding.
The trial before Lord Glennie continues.