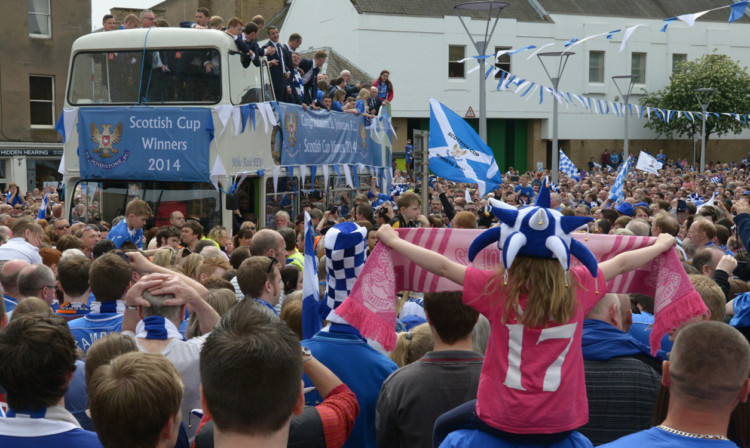 The cup heroes of St Johnstone have "galvanised" Perthshire ahead of a potential Ryder Cup windfall.
The day after Perth's party of a lifetime the city was celebrating the knock-on success of Saints Scottish Cup triumph.
Business leaders and politicians joined fans in predicting a massive economic boost for the area in the wake of the club's footballing triumph.
Footfall estimates show more than 20,000 Saints supporters packed Perth city centre on Sunday to welcome their returning heroes.
Vicki Unite, chief executive of Perthshire Chamber of Commerce, said: "The way that St Johnstone's performance galvanised the whole community is an amazing achievement and they should be in no doubt as to their place in the hearts of the Perthshire people.
"Lifting this cup provides their passport to European football next season and we look forward to welcoming the visitors those games can bring.
"Businesses across the area all benefit from St Johnstone's success as it turns the sporting spotlight on the Fair City and their future campaigns will continue to generate a business spin-off for the whole area."
Eddie Anderson, owner of the Royal George Hotel where St Johnstone enjoyed a civic reception predicted the cup win will have a major impact. He said the business community must now carry that buzz through to the Ryder Cup at Gleneagles in September.
"Everyone was ecstatic it's tremendous for Perth and for the club," he said
"There is a euphoria that comes with this win and with Perth having city status, the Ryder Cup coming along, hopefully this will put Perth on the map."
Cafs and pubs enjoyed brisk trade during the cup parade, with ice-cream shop Jannettas Gelateria in George Street reporting long queues throughout the day.
Manager Mike Maindron said: "Everyone was in good spirits and really happy."
Councillor Ian Miller, leader of Perth and Kinross Council, said he was amazed to witness such a "great spectacle".
He added: "St Johnstone did a fantastic job and the cup win is great for the city.
"It is testament to St Johnstone that thousands of people attended the final on Saturday and Perth City Centre was a sea of blue and white on Sunday, when the team returned to celebrate the win with the local community."
"Since achieving city status there has been a real 'feel-good factor' in Perth and Kinross, and Saints' fantastic success has only added to that.
"I've supported Saints all my life and they have struggled for many years, so to see them have success was amazing.
Roseanna Cunningham, MSP for Perthshire South and Kinross-shire said St Johnstone's win has provided a "huge boost" to local pride and self belief.
"It would be great if it were to also translate into success for local businesses," she said.
"Certainly, depending on the opposition drawn, a good run of European football will bring commercial benefits to the city."
Pete Wishart, MP for Perth and North Perthshire, said: "Without a doubt it has been shown that Perth is a city where ambitions can be achieved and dreams can come true."