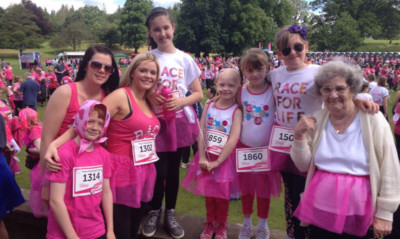 A brave five-year-old who is fighting bone cancer tackled the Race for Life in central Scotland.
Grace Newton clutched a giant pink balloon in the shape of a star with the words "Amazing Grace" on it as she crossed the finish line of the 5K at Callander Park.
She was cheered on by her proud mum Janet, 28, and brother Kieran, 11, as well as by friends and family who also took part.
The family from Grangemouth say their world has been turned upside down since Grace was diagnosed with Ewing's sarcoma in February. They have raised more than £1,200 so far for Cancer Research UK.
Janet said: "I'm so proud of my amazing Grace. We've spent a lot of time in hospital at Yorkhill since Grace was diagnosed.
"She had her last day of chemotherapy for this block on Thursday so we were all hoping we'd get out of hospital so we could race for Grace today.
"Grace had a chance to meet Katy Perry at a concert in Glasgow a few weeks ago, which was great, but most of the time we've been in hospital.
"That's why it's been wonderful to get all our friends together and come here today to keep my beautiful, brave girl smiling."
Emma Fitzsimmons, of Dunblane, was first home in the 5K, completing the course in 19 minutes. The 14-year-old, who plays squash for the Scottish junior team, said that she'd love to make the Commonwealth Games team one day.
Cancer Research UK's Race for Life, in partnership with Tesco, is a women-only series of 5k and 10k events which raises millions of pounds every year to help defeat cancer by funding lifesaving research.
Many who take part have survived cancer themselves or are running in memory or celebration of loved ones whose lives have been touched by the disease.
Cancer Research UK receives no government funding and money raised through Race for Life allows Cancer Research UK's doctors, nurses and scientists to advance research.
Cara Inglis, Cancer Research UK's events manager, said: "We're inspired by all the remarkable people we've met. Race for Life is an amazing way to celebrate life but also remember those who have been lost to the disease.
"There are over 200 cancers and we won't give up until we find cures for them all."
There are 11 Race for Life events around Scotland this spring and summer.
For more information, or to enter one of the events, go to www.raceforlife.org or call 0845 600 6050.