 Men in Dundee receive on average £18,000 less in pension payments than the UK average, according to the Scottish Government.
Pensioners' rights minister Shona Robison revealed new figures that appeared to show people across Tayside, Fife and other parts of east Scotland are losing out by thousands of pounds with the exception of Perth and Kinross.
UK Pensions Minister Steve Webb said spending on pensions in Scotland is more affordable as part of the UK.
Dundee City East MSP Ms Robison told Holyrood: "If we compare my own city of Dundee, men there receive on average £18,000 less than the rest of the UK, while women receive £15,000 less.
"It is very is clear from all this work that the UK state pension age is not based on Scottish circumstances it's unfair to Scots who are not receiving a fair reward for a lifetime's work.
"The UK plan to speed up the increase of the state pension age to 67 by eight years from the original timetable set out by the previous Labour Government will only make this situation worse.
"That's why the Scottish Government has committed to setting up an independent commission to consider the state pension age.
"The commission will consider fairness, life expectancy, affordability and equality issues in the round and reach a decision that genuinely suits Scotland's circumstances.
"Life expectancy is improving in Scotland…but progress will take time. In the meantime I don't want any of our pensioners to be disadvantaged."
Based on a pension of £160 per week, the Scottish Government's comparison revealed that in 11 local authorities both male and female pensioners are losing out by more than £10,000 on average.
There are only five local authorities, including Perth and Kinross, where men are receiving more than the UK average.
In only two local authorities, Perth and Kinross and East Dunbartonshire, are women receiving more than the UK average.
Mr Webb said: "The Scottish Government cannot ignore the demographic challenges facing Scotland in the event of independence, particularly as the proportion of pensioners in the next 20 years is expected to increase faster here than in the rest of the UK.
"The current Scottish Government have still not said how they are going to pay for these significant social security costs.
"It needs to come clean about how it would fund these proposals. It is difficult to see how this support would be maintained without higher taxes or cuts to services."
Meanwhile, Labour announced that Fife Provost Jim Leishman is the party's champion for older people.
Mr Leishman, said: "I will do my best to contribute to supporting older people in my new role and hope that I will be able to make a real difference to people's lives."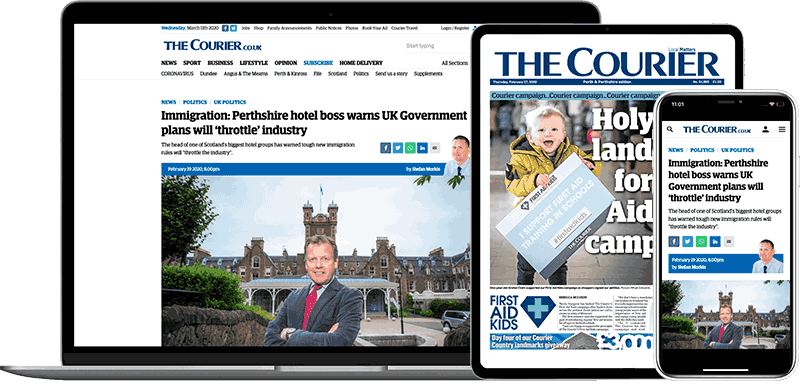 Help support quality local journalism … become a digital subscriber to The Courier
For as little as £5.99 a month you can access all of our content, including Premium articles.
Subscribe