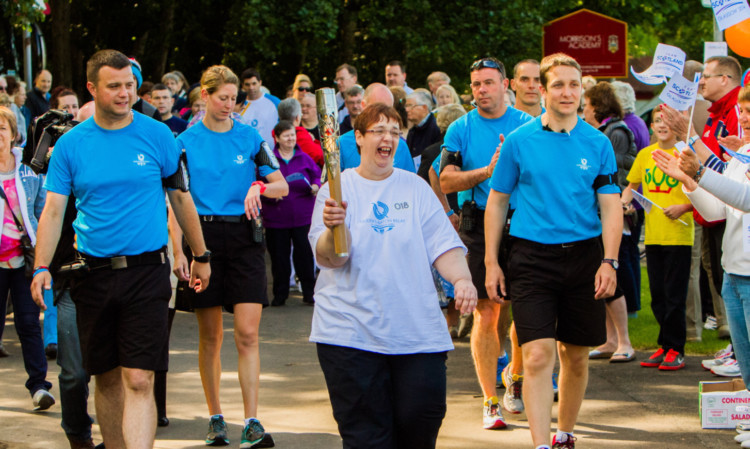 The baton relay captured the imagination of thousands at the weekend, with communities across Perthshire and Central Scotland turning out in force to celebrate its arrival.
Hundreds, if not thousands, lined the streets of Auchterarder to cheer on their local baton bearers, as the sun beat down on all involved.
The High Street was a sea of cheering family, friends and neighbours, while the community gathered at the Aytoun hall.
Amy Gullen, 15, from Muckhart, who attends the Community School of Auchterarder, carried the baton, and was followed to the school grounds by much of the town, where she handed it on to local athlete Morag MacLarty, 29, who hopes to compete at the Glasgow Games.
* Click here for a full photo gallery
One of the most spectacular entrances of the weekend was at Gleneagles, where Warrant Officer Shane Cook of the Royal Electrical and Mechanical Engineers Parachute display team skydived on to the golf course with baton in hand.
He passed it on to top golfer Catriona Matthew, watched by First Minister Alex Salmond, Provost Liz Grant and members of Muthill Primary School Choir.
The baton's journey began on Saturday with a visit to McDiarmid Park, where it was paraded alongside the Scottish Cup.
It then hit the road to Methven, where an impressive crowd had been gathering for some time.
The baton then moved on to Crieff, where the team were staggered once again by the welcome.
The town had created a day of events around the baton's arrival in the hands of Lesley McConnach, with MacRosty Park the focus of activities.
Baton bearers in Muthill found themselves serenaded by a local choir.
Dunblane was the final stop of the day, with baton bearers, including swim coach and Commonwealth Games competitor Kerry Wood, receiving huge cheers.
On Sunday the baton went to the Stirling area, where it was welcomed by musicians from Raploch's Big Noise project.
Large crowds lined the streets of Thornhill and Aberfoyle, Drymen, Balfron and Killearn, where bearer Sean Morrison posed with an armour clad three-year-old Findlay Barrie.
Visits to Bannockburn and then on to Stirling once more completed the tour.