Broadband project starting to make a difference in Perthshire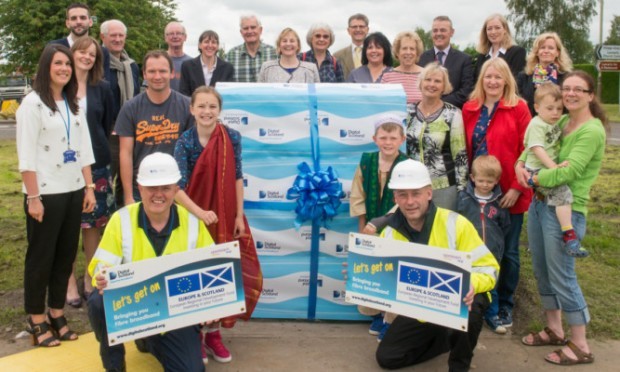 A project to connect rural communities to next generation broadband has marked an important milestone.
A small Perthshire community became the first to benefit from a £1.2 million programme launched by Perth and Kinross Council to improve internet provision.
More than 750 properties in Luncarty will receive fibre optic broadband as a result of this investment, which has been supported by the £410m Digital Scotland Superfast Broadband partnership.
Perth and Kinross councillor John Kellas said: "We are in the process of rolling out a considerable programme across Perth and Kinross to improve broadband connectivity and the launch in Luncarty is just the first step.
"Our ambition is for Perth and Kinross to be a leading area for superfast broadband and I am pleased to see the results of all the hard work which has been done to take this forward can now begin to be seen."
Although residents can now access fibre optic services, they are advised this will not happen automatically and locals hoping to upgrade their broadband should contact their provider for further details.
As part of the proposals, next generation services which give locals speeds of at least 24Mbps will be available in 70% of properties by next year, rising to 90% by December 2017.
Although the council aims to get everyone in Perth and Kinross connected within the next three years, the best some communities can hope for is speeds of at least 2Mbps.
Next generation broadband has only been guaranteed for rural settlements with a population of 1,000 people or more.
BT Scotland director Brendan Dick said: "New locations for fibre will be announced regularly as our engineers carry out detailed local surveys and finalise plans.
"Delivering a project on this scale is one of the most significant challenges we've faced anywhere in the UK in recent years, so it's great to see the real, tangible benefits arriving in local communities.
"I hope local people will welcome this upgrade and make the most of fibre broadband."
Those areas which will not have next generation access by the end of 2017 could receive additional funding to explore other options.
Perth and Kinross Council is seeking technical advice via a Scottish Government initiative, as there are national proposals in place to provide further assistance.
This is already happening in Highland Perthshire through a partnership with the local authority and Atholl Estates.
A pilot project will be launched later this year to provide broadband services to communities at Amulree, Trochry and Struan. Five small-scale telecoms masts will be erected at a series of locations to give locals speeds of up to 8Mbps.
Further details can be found at www.pkc.gov.uk/broadband.
Photo by Angus Findlay Photographers